---
---
---
Rafer Alston Interview
Rafer Alston, who earlier this summer, signed a multi-year contract with the Toronto Raptors was in vintage Skip to My Lou form playing streetball in the EBC at Rucker Park earlier this week. InsideHoops.com editor Jeff Lenchiner met with with Rafer and had a quick chat about returning to Toronto and playing with Vince Carter and Jalen Rose.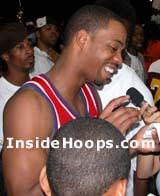 InsideHoops.com: Talk about the Raptors, Vince Carter, if you guys have spoken since you signed back with that squad, catch us up on what's running through your mind.

Rafer Alston: I went up for his charity game, and it went well - the game went well. Didn't have much of an in-depth conversation with him, but he knows that country and that city, Toronto, they love the kid. I love him, I really like him, I really want to play with him, and I understand his frustration. You go through two or three straight losing seasons, and you feel some of the personel moves and some of the guys that the organization brings in may not help you, but I think you should play it out first, and at mid-point through the season it's not going well, I understand you getting a trade to a contender. During the middle of the season, for a trade, people will accomodate you, if things don't turn around. But I don't think you demand a trade and bail on your guys until you see how things are going through training camp, through pre-season, and after the first half of the season. I would really like to be a great tandom in the backcourt with him. I had a guy, Dwyane Wade, he's a young guy in this league, so I can imagine how I could play with a guy that's been a seasoned veteran in this league, and a proven all-star. All I'm going to do is try my hardest and get him as many easy baskets as he can, so he don't have to face double-teams, and hopefully he can spot me for the spot-up three when they do double-team him.

InsideHoops.com: And Jalen Rose, he's extremely versatile and can do a lot of things with you guys.

Rafer Alston: You know, there's a lot of teams have their version of the big three, and there's an opportunity for us to have a big three, and that's not to count out any of our other teammates, but you have a guy that loves to pass the ball in myself, you got a guy in Jalen Rose that helped lead the Indiana team to the championship round, so I just want to go up there and work as hard as I possibly can with those two guys, and I know they'll enjoy getting the basketball. They better enjoy that.

And some more quotes:

Rafer Alston on being worshipped on the playgrounds:

The little ones still see me as Skip to my Lou, they don't know that I'm 28 years old now and that it's almost time for me to stop playing on the concrete. I can walk in and sit down, and this park (Rucker Park) gives me a great welcome, a great standing ovation, and I love them for that.

Rafer Alston on pulling off streetball moves at Rucker Park:

I think of it during the course of the game, what I can do, what I can get away with. Everything is a chance. I've always lived on the edge; at times I catch myself, but out here I always play the game on edge. I try tricky things, but I feel I'm the type of person that can make it work.

Rafer Alston on returning to Toronto:

Toronto's a wonderful place, and I'm excited to get back there and try to help those guys turn the season around. It's another challenge for me. I went down to Miami, a team that was struggling, they had won about 20 games, and we go down there and we win about 42 games and go to the Eastern conference semi-finals. The challenge is on again. I welcome the challenge, and I want to go to Toronto and hopefully I can help Vince and the guys turn that thing around so they can experience some playoff glory.