2008 NBA Pre-Draft Camp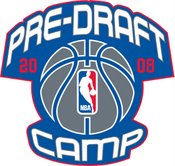 Key Links: Pre-Draft Camp Rosters | NBA Mock Draft | NBA Draft Home

The 2008 NBA Pre-Draft camp was in Orlando, Florida from May 27-30 at a terrific facility, the Milk House Arena at Disney Wide World of Sports. The purpose of the camp is to give top prospects a chance to show their skills in front of NBA general managers, their assistants, team scouts, coaches, and other NBA people of importance. Players who consider themselves locks to be drafted in the upper or middle first round usually pass on playing in the NBA pre-draft camp and just come to take physicals and get their height, weight, etc. measured.

This year, maybe just 2-5 players who played in the pre-draft camp could go first round. The vast majority will go second round or undrafted.

AFTERNOON OF FRIDAY, JUNE 20, WE ROLL OUT DAILY INTERVIEWS

We conducted lots of interviews at the camp that were about the players in general, and how they'd help an NBA team. Content that won't go out of date. And starting the afternoon of Friday, June 20, we'll be posting all that stuff, leading up to the Draft which is Thursday, June 26.

PLAYERS WHO HELPED THEMSELVES

InsideHoops.com watched the games, talked to tons of sources at the event, and here's who likely improved their value in the eyes of NBA teams. Note that aside from Forbes' big 30-point game there weren't a lot of real standouts, so while we're saluting the guys below, most of them were only slightly better than plenty of other guys who aren't being mentioned. To keep things in perspective, only a select few guys who played in the entire camp have a shot at the first round. With that said, here's who benefitted from playing:

Gary Forbes (U of Massachusetts): Forbes scored 30 points in one game, higher than anyone else, and made things happen whether he had the ball, attempted to score, or simply by moving and positioning himself properly. He deserves to be drafted. Every single NBA team-affiliated person we spoke to named Forbes as someone who raised his stock. He's the InsideHoops.com MVP of the camp. And yet he's still probably going second round.

Joe Crawford (Kentucky): Was very strong and athletic, made things happen, and repeatedly owned whoever was defending him. He ball-hogged a bit, but in a good way. The kind of way that shows he's got the ability to be a leader. InsideHoops.com would draft him if we had a second round pick and give him a shot to prove himself in training camp and preseason.

Robert Vaden (Alabama-Birmingham): Vaden didn't shoot particularly well or put up big stats, but a bunch of scouts InsideHoops.com spoke to like him, and a bunch of guys he played with and against spoke highly of him.

Ty Lawson (North Carolina): Lawson only played part of one game, and looked good in brief limited minutes. If he helped himself it was only a little. But we'll list him here because he's still on the lower first round radar. If he wants to go top 15 or 20 he should really go back to school, though.

DeVon Hardin (Cal): InsideHoops.com didn't see him do anything partcularly special as far as refined basketball skilles go, but he's extremely tough, rugged, muscular, athletic and someone worth adding to an NBA bench.

James Gist (Maryland): Rebounded well, stretched himself and filled empty space nicer than expected defensively, and showed an ability to be a good role player type who does those little things that help teammates step up. Super-athletic.

George Hill (IUPUI): Hill showed he can do a bit of everything, and scored, rebounded, actually boxed out a bit, passed well, and just looked like someone who might help a roster. He has a good bball IQ.

Brian Roberts (Dayton): Aside from scoring, Roberts dished assists like crazy and looked like a good floor leader who controlled the rock properly even when he wasn't getting credit for it on the stat sheet.

DeMarcus Nelson (Duke): Before the camp he looked like he might go undrafted. Now he could go second round. So that's a step in the right direction.

Malik Hairston (Oregon): Across-the-board skills impressed some observers. Hairston was on the Draft radar last year and should be selected this year, though as a second rounder.

Richard Hendrix (Alabama): Didn't show anything new, but we're listing him here because he reaffirmed that he deserves to be drafted and given a shot to prove himself in summer league and training camp.

Reggie Williams: The dude can score, as he's proven in college, and didn't do anything in camp to hurt that.

Sonny Weems (Arkansas): A few people told us they liked how he "filled in the blanks" and made teammates better.

Mike Taylor (D-League): Taylor gets an honorable mention, though he was very inconsistent, playing very well for stretches, and being a mess in others. But we say he helped himself, because he showed higher ability when he was on his game than most other players.

VARIOUS NOTES:

Joey Dorsey gets an honorable mention simply because he looks like he can knock over a brick wall, and that could interest teams who need a human bulldozer. It's a real stretch to say he helped himself aside from showing up and looking like someone you don't want to fight with in a back alley. So take that for whatever it's worth.

Drew Neitzel (Michigan State): A scorer in a point guard's body. Not sure that he really proved too much.

Shawn James: Just sort of fit in on offense, but defensively he was #1 in the entire pre-draft camp in "blocks per 48 minutes" (4.6) and #2 in the entire camp in "steals per 48 minutes" (6.2), plus 9.0 rpg per 48 minutes but he wasn't on the court much so many at the camp probably didn't notice.


2008 NBA PRE-DRAFT CAMP SCHEDULE

Tuesday, May 27: 6:00 PM Drills

Wednesday, May 28: 9:00 AM Drills, 11:00 AM Games, 5:00 PM Games, 6:30 PM Games

Thursday, May 29: 9:00 AM Drills, 11:00 AM Games, 5:00 PM Games, 6:30 PM Games

Friday, May 30: 9:15 AM Games, 11:15 AM Games, 1:15 PM Games


DAY 1: QUICK UNEDITED NOTES

By Jeff Lenchiner, InsideHoops.com editor

The 2008 NBA pre-draft camp started Tuesday night, but with nothing but drills and some scrimmages happening, the real action and full days begin Wednesday. The first evening was more of a meet-and-greet between various NBA front offices members, coaches, assistants, etc. There weren't a lot of media interviews being conducted. NBA league people were mostly focused on shaking hands with old friends they haven't seen in a while and then settling down to watch the players loosen up a bit. This event is probably a more serious networking event for coaches, scouts, etc. than many may realize. Coaches looking to move up the ladder can shake hands and talk with their future potential bosses. Same with executives and front office people. So while the vast majority of NBA people there are happy to make time for reporters, you generally learn when to say hello and when to let people have their own conversations without worrying about being quoted worldwide on the all-powerful internet. Which I personally control. That's right.

Anyway, I can make a laundry list of who was in attendance (some of the people I talked to and/or saw with my own eyes: Michael Jordan, Larry Brown, Marc Iavaroni, Rick Carlisle, PJ Carlesimo, Jerry Sloan, ML Carr, Mark Price, Bo Outlaw, Monty Williams, Ed Pinckney, Reggie Theus, Ed Stefanski, Kiki Vandeweghe, Rod Thorn, Lawrence Frank, Steve Kerr, Chris Mullin, Nate McMillan, Rick Carlisle) but it's easier to say that almost everyone that matters in basketball, and/or their right-hand man, is at the camp. One of the only surprising appearances was Danny Ainge, whose Boston Celtics are busy in the Eastern Conference Finals yet he's making time to see players who will almost all just go second round or undrafted. But still, guys that don't get picked in 2008 could make a nice free agent signing for the league minimum in 2009 or 2010, so they're worth seeing.

As for the players, there wasn't a lot to take from the first evening. I didn't watch too closely, but talked to enough people to confirm nothing crazy happened, and that's all that really mattered Tuesday. The real games begin Wednesday and this page will update you on everything worth knowing.





---
LAST YEAR'S NBA PRE-DRAFT CAMP



The 2007 NBA pre-draft camp took place May 27-30 in Orlando, Florida. It used to take place in Chicago but moved to Orlando in 2006, and could move again, eventually. InsideHoops.com was at the camp and has full coverage below.

Camp Recaps: Day 1 | Day 2 | Day 3 | Day 4 | Final Thoughts

This is the only NBA pre-draft camp that really matters. And, there are only two. The other being the Portsmouth Invitational Tournament which takes place in April in Portsmouth, Virginia. But that camp is only for college seniors, narrowing the field even more. And just about every really good college senior skips it, leaving nothing but second-round hopefuls and just a select few guys that might scratch the first round.



NBA PRE-DRAFT FINAL THOUGHTS



By Jake Chapman

A few thoughts and reflections from the Pre Draft Camp in Orlando:

Iíve informally crunched some numbers, and the following players had to have really helped their draft status based on their performances. First and foremost, the man who Iíve been talking about all week, Ramon Sessions.

Letís take a look at the point guards at this camp, including Brandon Heath who was the third point on his team along with Aaron Brooks and Jamaal Tatum, and switched to the two-guard spot often. I went through and figured the assist to turnover ratio from the thirteen point guards in Orlando, and Sessions and Jared Jordan were by far the most efficient. Jordan had 17 assists to just 5 turnovers. Thatís a 3.4:1 assist to turnover ratio, which is pretty darn good. But then thereís Sessions. According to the official game stats the league provided us, Sessions dished out 13 assists this week, and turned the ball over once. Thatís ridiculous. I gushed over him all week because of his knack for directing his team on the floor and his intensity, but he truly is a heady floor leader who just doesnít make mistakes. He can get into the lane too.

And Jordan can run the break real well. Both of these guys will develop into quality NBA point guards some day, and both deserve consideration at the top of the second round.

Scoring: Ali Traore, Aaron Gray, Coleman Collins, Demetris Nichols and Reyshawn Terry were the most prolific scorers. Collins averaged 17.6 points per game, by far the best average. Traore was next with a 14.6 ppg. Iíve talked extensively about both these guys and both have some issues, but Traore will go at the top of the second despite his out of control defensive style. Collins will take some time to develop and his lackluster senior year may hurt his stock, but heís a competitor with a big body and Iíd take him any day. Gray averaged 14 points per game. Heís a lock for the bottom of the first or top of the second, but he makes me nervous because his game is so one-dimensional.

Nichols was by far the best three-point shooter there. He shot 9/13 from downtown in his 3 games.

Stephane Lasme blew everyone out of the water in the blocked shots category, averaging 4.3 blocks per game. Thatís pretty ridiculous.

Steals were tough to come by, but Reyshawn Terry, Ron Lewis and Brandon Heath all averaged 2.0 steals per game. Lewis didnít have the best camp, but his defensive principles and on-ball defense were evident at OSU and he kept them up in Orlando. I donít think he or Heath get drafted though. Terry is a risky proposition. Heís got a great body, and heís a good athlete, but his basketball IQ is lacking. He should get taken late in the draft though, and may get some PT in his first few years because of his athleticism and North Carolina pedigree.

My all camp team. PG: Sessions SG: Nichols SF: Jared Dudley PF: Lasme C: Coleman Collins.

Statistically Iíve explained all these picks except for Dudley. Dudley does it all. He came through in crunch time in 2 of his 3 games. He shot the ball real well from the perimeter which surprised me a bit. And he got into the lane without much problem. I really think heís going to be a good player in the league because of all the little things he does well. But where to put him?

Guys who are really intriguing:

Sammy Mejia has great athleticism, heís long and he defends and shoots well. Sounds like a slam dunk right? The problem is he disappears in games at times. Thereís times where he gets his hands on the ball on every possession, gets to the rack and hits contested jumpers. And thereís times where he doesnít cut hard and settles for blending into the offense. His body is like a Tayshaun Prince only a bit smaller, and he has a better handle than Prince. But he plays a bit slower and needs to amp up his energy at times.

James Mays did not have a great camp. But there were times when his freakish athleticism was undeniable. Heís really raw, but he can block shots and throw down when he needs to. He probably wonít get drafted and itís a shame, because eventually he can be a real good hustle guy and defend the four well. You donít find athletes like this just anywhere.

DJ Strawberry is an insanely good perimeter defender. Iím convinced now that he will get drafted, because defense like he plays is just hard to find. Plus heís heady. Gary Williams is one of my favorite college coaches, and he taught Strawberry well. Iíd take him on my team if I had room for a pure defender. Strike that, who doesnít have room for a pure defender? This guy is Raja Bell. And there were a few games where he shot the ball well too from the 15-20 foot range.

Major Wingate started the camp hot and then sort of disappeared. I still think he can find a spot in the league eventually but heís going to have to work on his game. He did show a nice baseline jumper and his NBA body is hard to ignore. Heís got great intensity, but heís raw and his footwork around the basket is very primitive.

Yue Sun started slow but by the end of camp he looked pretty good. The lefty from China plays passing lanes, passes well and has a pretty sweet stroke. If he learns to go to his right he may be a very good pro. I think he gets drafted.

Avis Wyatt has the body of Darius Miles. But he really didnít play too well this week. Heís about as athletic as Miles too, but he really needs to work on his bulk and defensive intensity.

Ekene Ibekwe is so long; he blocked shots left and right and stripped post players all week with his quick hands. But his offensive game stinks and heís a bit too thin to defend in the league. He probably wonít get drafted.

Rashad Jones-Jennings is big and gets after it on the boards. Heís wide and throws his weight around well, but I didnít hear too many scouts who were enamored with his game.

Rashaun Freeman is great. He better get drafted. He and Lasme and Coleman Collins were easily the best bigs here this week.

Taurean Green will get drafted. He shot the ball well and directed his teammates on the floor and he comes from a great program. But I wouldnít use a late first-rounder on him, because I think he has work to do taking care of the ball and running the break. But based on name alone heíll go higher than he should.

Chris Richard will get drafted too but I wish he had applied himself more. He has a great body and some pretty nice post moves, and could have started for almost any program in the country, yet he was stuck behind 2 lottery picks at UF. He needs to turn his motor up when heís on the floor and he really needs to develop a short-range jumper.

Sitting 5 seats from Michael Jordan, having an exchange with Larry Bird, getting the opportunity to interview Kevin Durant and Mike Conley (among about a thousand others) and sitting, listening to and talking to the greatest talent evaluators basketball has was an incredible opportunity. I hope our insight was useful, come back soon for interviews, interviews and more interviews. Later.

Back to top of page.





NBA PRE-DRAFT CAMP DAY 4



By Woody Wommack

The final day of the 2007 NBA pre-draft camp featured three games, just like the previous few days. Only, today's games took place earlier in the day.

Game 1 (Day 4)

The fourth and final day of the 2007 NBA Pre-Draft camp got underway Friday morning with scouts and media members trickling into the Milk House Arena at Wide World of Sports all throughout the first game.

The game was played between Team 3 and Team 2, with the first overtime game of the week being played.

The most impressive match-up of the morning game had to be Yue Sun against Ohio Stateís Ron Lewis. The two were battling back and forth on both ends of the floor and Sun impressed scouts with constant hustle and playmaking ability. During one exchange between Sun and Lewis, Sun shook Lewis with a crossover dribble then rose up from 20 feet away to hit a jump shot just as the shot clock expired.

Even though the match-up between Sun and Lewis was intriguing, Ohio Stateís Daequan Cook stole the show with his all around play. Cook had been a disappointment so far, but on Friday he showed an uncanny ability to drive to the hoop, and complemented it by hitting his outside shot as well. Cook was guarded by Virginiaís JR Reynolds who had no answer for Cookís athleticism. During one exchange Cook took Reynolds off the dribble, then turned away from the basket and hit a 12-foot turn around jumper from straight away. Cook then drew Oklahoma Stateís Mario Boggan as a defender, and when Boggan tried to take away his driving lane to the basket Cook dribbled to the right side of the court and pulled up for a successful three point try. In the second half Cook picked up where he left off hitting a very deep three pointer as the shot clock expired even with a charging Sun coming over to contest the attempt. On the very next possession Cook showed that he can do more than score as he tossed a beautiful lob to Marquetteís Dominic James for an emphatic dunk.

Getting back to the Sun-Lewis match-up, Lewis followed his Ohio State teammate Cookís lead as he aggressively drove the ball to the basket. Lewis also showed off a one-hand runner and drew fouls against Jared Jordan and Stephane Lasme. The one knock on Lewisí play from Friday had to be his inability to hit a clutch free throw late in regulation that may have won his team the game.

DaShaun Wood did a nice job getting to the hoop and scoring, but has yet to show the abililty to get his teammates involved on the offensive end. Bad habits are hard to shed and if heís going to play at the next level he needs to realize that the guys heís playing with are a lot better than his teammates at Wright State.

Stephane Lamse did a nice job of contesting shots inside, even recording a couple of blocks during the game. His aggressive defensive style is drawing comparisons to another UMass big man, Marcus Camby.

Taurean Green has vastly improved his play during the week, he showed off his speed and quickness by outracing everyone on the floor for a coast-to-coast lay-up. Greenís teammate JR Reynolds also showed scouts that he can be a clutch shooter by hitting a 20-foot jump shot from the left side to send the game into overtime at the end of regulation.

Random Game One Notes:

Tom Crean was again in attendance to watch his former point guard James.

Everyone at the camp including Crean was buzzing about the incredible play of LeBron James in Thursday nights Eastern Conference Finals.

Texas A&M point guard Acie Law was seen participated in drills following the game, even though heís not listed on the official camp participation list. Mike Conley Jr. was also seen participating in drills despite being listed as a physical only player as well.

According on one Western Conference scout Maristís Jared Jordan will definitely be drafted, perhaps early in the second round.

Lenny Wilkins was seen taking in the action nearly every game throughout the week, perhaps trying to find the player that could turn the Seattle franchise around.

Game 2 (Day 4)

The second game on Friday picked up right where the first game left off. It was another intense contest that wasnít decided until the final seconds. The game wasnít decided until Arizonaís Ivan Radenovic hit two free throws to seal the game with just under five seconds remaining.

The free throws capped a solid performance by Radenovic who spent most of the game closely guarded by Alabamaís Jemario Davidson. Radenovic showed nice ball handling skills for a big man, and even converted a few perimeter jump shots. Playing alongside his Arizona teammate Mustafa Shakur, Radenovic looked very comfortable during the game.

The best one-on-one match-up of Game 2 took place between Boise Stateís Coby Karl and Virginia Techís Zabian Dowdell. The smaller faster Dowdell had a tough time defending Karl, often over pursuing passes and drawing ill-advised fouls. Dowdell fouled out of the game with less than a minute remaining, and squandered and opportunity to show scouts his ability to lead in the clutch. Dowdell also had a hard time converting free throws, something he canít afford to be doing at this point in the camp.

While Dowdell was fouling out, Karl was showing just how much respect heíd earned from his teammates over the past four days. Teammates often deferred to Karl, and it was clear that when the team needed a basket they got the ball in Karlís hands. It seems that Karl has the intangibles that teams should be looking for in the draft.

As far as the big men were concerned Northern Illinois forward James Hughes showed a night set of low post moves while being defended tightly by Clemsonís James Mays. Hughes missed action yesterday because of an illness, but quickly made up for lost time by showing a nice touch around the basket.

The game was tightly contested the whole way, and all the players on the court show a high amount of intensity, perhaps realizing that this might their last chance to secure individual workouts with interested teams.

Random Game 2 Notes:

Chris Mullin could be seen taking in the game closely, even as many other GMís had left the area to go watch the players take place in the combine type events.

Game 3 (Day 4)

After the conclusion of Game 2, and before the start of Game 3 there was a huge exodus of scouts to another court located in the Milk House Arena so they could view the combine aspect of the Pre-Draft camp. All the big names were in attendance and almost every GM in the arena went to witness how high players could leap, how fast they could run and even how well they could run basic basketball skills.

When Game 3 began the crown didnít return, but that didnít stop the two teams from playing a high-tempo fast-breaking game.

Oregonís Aaron Brooks found the style to his liking, and immediately showed why he was the Pac-10ís leading scorer in 2007 by hitting two long distance three point jumpers. Several different defenders try their best to stop Brooks, but even the fleet-footed Bobby Brown couldnít slow him down. Brooks also hustled back on defense on nearly every possession, giving Brown fits on that end as well.

Boston Collegeís Jared Dudley had a hard time getting his jump shots to fall, despite getting some pretty good looks at the basket. He missed a wide open 18-foot jump shot from the top of the key after a nice pass from Brooks, and then missed another 20-footer from the right side of the court off a back screen from his teammate Kyle Visser. Dudley did rebound nicely in the second half, scoring seven straight points as his team stormed back from a 13 point deficit in the second half.

If the draft were held today, one would have to assume that Pittsburghís Aaron Gray would be a sure-fire first round pick. Gray has a nice inside out game, and has also shown that he can set teammates up with nice passes. One scout called Gray a more physical version of Clevelandís Zydrunas Ilgauskas.

Another player that has probably locked up a spot in the draft is Renaldas Seibutis. Seibutisí outside shot has been consistent all week, and if given even the slightest bit of space his shot can be deadly. Seibutis who is native of Lithuania but has spent the last few years playing basketball in Greece could be heard encouraging his teammates in English, with little or no accent.

Another player that made up for so-so camp was Australiaís Brad Newley. He took advantage of playing with point guard Brooks, and found himself with multiple open looks at the basket from three point range, most of which he converted.

The game looking to be going to way of a blowout until a second half outburst from Team 5. Brooks and Dudley showed why they were their teams leaders during the regular season, stepping up their game and refusing to give up down the stretch.

Random Game 3 Notes:

Both coaches continued the practice of subbing players every five minutes, even thought those players who were leaving the game werenít very happy about it.

As Game 3 was played other players from the camp took part in shooting and passing drills under the close watch of NBA front office officials.



NBA PRE-DRAFT CAMP DAY 4



By Jake Chapman

The week came to a close today, with three spirited games and a host of drills and tests to give scouts and team officials one last look at this group of athletes. The expected lottery picks showed up as well and took part in some drills and physical evaluations, including official height and weight, wing span, shuttle run, flat-foot vertical jump, running vertical jump, body fat, and a 20-meter dash. Weíll have some scoops on how they did for everyone who just has to know now, but the league will probably release those results by the end of the week.

Game 1 (Day 4)

Iíve been making a conscious effort to get you guys reports on different guys each day. Itís tough though if one person is having a ridiculous camp not to report on him. But it works out well if someone who has flown under the radar goes nuts, and this was the case Friday in game 1 with Daequan Cook. Iím an Ohio State alum, but as a journalist I tried not to watch Ron Lewis and Cook the whole time, even though I was pulling for them. But a blind man in the dark couldíve seen that Cook was on point today.

He took 15 shots, and he hit 9 of them. And a lot of these were off curls and screens, classic catch-and-shoot style. It was almost as if he decided to play today. This seems like a bad thing because you wonder where it was the first few days, but heís so young that heís bound to be inconsistent. Iím pretty sure itís pre-requisite to use the word ďupsideĒ when covering an NBA pre-draft camp, and so far Iíve resisted. But you have to use it with Cook. If I were a Houston or Phoenix, in other words a good team who could afford to let him develop, Iíd use a late first-rounder on him. He could be an all-star in the league in 4 or 5 years, and you really canít say that about anyone else at this camp. As I said before, he really needs to learn the game better. He makes ill-advised passes at times and he needs to understand defensive principles like defending the pick and roll and playing good help defense a bit better, but his physical tools are astounding.

Ali Traore is incredibly fascinating. In his 3 games he accumulated 19 personal fouls, thatís right, 19. With forced substitution patterns and forfeiting some minutes because of his foul trouble, he played 30 minutes at the very most. And he had 19 fouls for crying out loud. However, he scored 19 points yesterday on 8-12 shooting. He didnít exactly clean up the boards, but he had a variety of nice post-moves and showed some nice mid-range shooting from the baseline and foul-line extended. Now the kicker: his favorite post-move is a lefty hook, and itís butter. But he shoots righty. Being able to go to the hook from either side of the lane is lethal. Itís whatís going to make Dwight Howard a perennial all-star once he learns how to handle double-teams. Now, a lot of people will say that any NBA player should be able to score with both hands around the hoop. However, Traore genuinely prefers his left-handed hook, and itís completely money. Will execs look past his out-of-control style and draft him based on his post-moves? Iíd hope so.

Hate to keep saying it but I love Stephane Lasme. He had 9 points, 6 boards and 5 blocks. He will definitely be drafted and he will definitely make a roster. Guys who hustle like he does make it in the league, if only to push proven veterans in practice. Plus the inside scoop is he tore up the vertical jump. He has quick, springy jumps that allow him to block shots even after being pump-faked off the ground. He jumps like Amare Stoudemire did before the micro-fracture. Heís not as athletic as Stoudemire so he doesnít soar like Amare could, but he gets up and down quick, and doesnít need to squat and propel to get up, he just gets up.

Caleb Green is really interesting. Heís about 6-7, 250 pounds and moves real well. He averaged close to and over 20 points and 10 boards in all four years he was at Oral Roberts. He can shoot pretty well and run the floor, but he needs to rebound a bit better. Heís got a good body, he isnít very soft but he ought to refine his skills a bit. He shot 12 free throws today and scored 14 points with 6 boards, including 3 on the offensive end. Scouts told me heís efficient and really knows the game, so Iím betting someone fell in love with him and heíll go somewhere toward the bottom of the second round.

Game 2 (Day 4)

Jermario Davidson scored 16 points on 6-11 shooting, and had 7 boards and 2 blocks. I know for a fact one team has their eye on him with their mid-second round pick. Heís soft though, and needs to add bulk if he wants to defend the four position in the league. He had a good enough college career to get drafted on merit alone, but heís got good footwork and soft enough hands to play in the league as well.

The Nevada guys played well. Iíve talked enough about Ramon Sessions, who impressed me so much this week youíd think he was John Stockton. But he had 14 points and 4 boards. He only had 1 assist today, but he didnít turn the ball over at all. His Nevada teammate Marcellus Kemp played well today too. Heís a really nice prospect because heís stocky and powerful but moves really well. Heís listed at 6-5, 210. He looks more like heís 6-4, 220. He shot 6-13 from the field and scored 16 points, and his powerful upper body is going to serve him well defending bigger guys in the future. He may be hit or miss, because thatís how he played this week, so weíll see what happens with Kemp come draft day. I honestly have no clue.

Mustafa Shakur scored 8 points and had 5 assists and he came up huge in crunch time. This was a very competitive game. Late, Shakur drove to the rack and got an and 1. He almost knocked the ref out with a right hook he was so excited. I love seeing this competitive drive in a game whose outcome means nothing. Shakur is long for a point and he has a great handle. Plus he can thread the needle. But he has no jumper. I donít know if he gets drafted or not, but a jumper is one of the easiest things to improve on in basketball, so a bit more development and we could be hearing from him in years to come.

Koby Carl had 17 points but no assists. I donít know what to think about him. The league seems to be moving away from combo guards as post-play becomes less and less relied upon. True points are at a premium because everyone wants to run more, and Karl is easily the slowest point guard here. Brandon Heath, Bobby Brown, Jamaal Tatum, Aaron Brooks, Jared Jordan, Sean Singletary, Mustafa Shakur and Ramon Sessions are all way faster than Coby. He can shoot and heís a real heady player. Plus heís George Karlís son, which canít hurt. But with the abundance of point guards who will be available in the second round and in free agency, Iíd take my chances on the speedy guys and hope they become more conservative, because you canít teach speed.

Game 3 (Day 4)

Coleman Collins had 18 points on an efficient 7-8 shooting. He had 5 boards. I donít know if he gets drafted. He doesnít have a ton of post moves, but heís effective and he can use his wide frame well. Heís only about 6-8 but he plays bigger than that. But he had a lackluster senior year, and heís aware of it. He told me on Thursday after a bad game that heíd had a bad year as well, and he was ďscraping from the bottom to get to the bottom.Ē Put a chip on a world-class athleteís shoulder and they generally deliver. Today he delivered like UPS.

Carl Landry finally played well. Man is he a weird prospect. He was spectacular at Purdue, but he truly has the body of a 2, and played like a 4 when he was in school, much like Jared Dudley. Heís so undersized and itís tough to see him getting drafted because of this, but today he came through with 12 points and 8 boards.

Rashaun Freeman is a beast. I know I canít stop talking about the 2 bigs from UMass, but between Lasme and Freeman and their hustle itís tough to see how they werenít a tournament team. At the end of this game, he got two offensive boards and then a tip-n and screamed like a man possessed. He was jacked as he headed two the bench, and his enthusiasm and passion was contagious as his team squeezed out a 2-point victory. He scored 16 points. At about 6-9, 260 heís a big boy. Heís still raw, but heís going to play in the league, if not this year, then soon.

Finally DJ Strawberry scored 12 points on 5-7 shooting. I doubt he gets drafted, but Iíd love him on my team just because he defends so well. If I was an exec and I had a deep roster, Iíd take him just to defend my starting wings everyday in practice. That contribution to a team has to be worth something.

Some scoops from the physical evaluations: Stephane Lasme, Mike Conley and Al Horford ripped up the flat-foot vertical jumps. Lasme seemed like a gimme, but Conley and Horford because of their size and proportions seem shocking. Both will be gone in the top 6 picks I bet. Also Corey Brewer put up 185 11 times in the bench. For a guys as wiry as he is thatís pretty impressive.

Back to top of page.





NBA PRE-DRAFT CAMP DAY 3



By Jake Chapman

Day 3 features three games. Here's what went down:

Game 1 (Teams 1 and 4)

Team 1 has claimed two of the three injury issues in this short camp, and you have to think its going to affect the afflicted playersí draft position, be it fair or not. Quinton Hosley missed yesterday with a shoulder injury, but he was back today. And James Hughes sat out today with an illness.

Hosley made up for lost time. He shot five of eight and had eleven points. Heís an interesting prospect. His huge shoulders sit atop a very wide upper body, and he uses it to his advantage. Heís listed at 6-6, 210 but he plays bigger because of his wide frame. Plus he can jump out of the building. Bulky guys who can jump get drafted, and I even saw him make himself skinny as he split a screen, also a good sign. The scouts will be anxious to see how he does Friday.

Jared Dudley is good. I donít know how else to say it, because guys who had decorated college careers always seem to get disrespected. Itís almost like hating a music group because theyíre too popular. Dudley is listed at 6-7 and thatís hilarious to me. He probably goes 6-4. But because he played like a big in the ACC everyone thinks he has no NBA skills. But the guy can shoot long and mid range. Yes, he was a great rebounder at BC. No, he will not rebound in the league, because heís not Charles Barkley, but he can play the wing. He looked great out there, shot it well, penetrated from both sides of the floor, passed off the drive, and defended well. He said after the game that he wanted to show scouts he had the lateral quickness to guard wings in the league. This is the crux. He will have problems with the quicker wings, and bigger guys can probably shoot over him, but heíll be able to use his frame to overpower the same players on the other end. Someone will take him and get a multi-faceted player.

Zabian Dowdell seriously needs a right hand. For a point or even a small two (he could play both spots) he canít go to his left every time, and it didnít take defenders long to realize they could play him to his right and force the ball out of his hands. This is going to cause problems for him.

Russell Carter jacks up shots like Vince Carter. But thereís one little difference, Vince makes them. Carterís been like a black hole at this camp. He shot 1-7 from the field, scoring 5 points from the free throw line. If ever he decides to put his head down and get to the rim it works out, because heís strong as hell. The problem is he likes jacking up shots. This isnít the time or place Russell, enjoy your stint with the Anaheim Arsenal.

Rashaun Freeman is an NBA big man. Heís still raw, but he set some real nice screens, threw his weight around down low and was efficient from the field. Heís got a good head on his shoulders, and Iím seriously beginning to question whether he or Lasme is the best Minuteman here. Both UMASS bigs should get drafted. They hustle.

Herbert Hill and Trey Johnson continued their outstanding play. Trey Johnson is going to make someone very happy, heís a great catch-and-shooter. He moves well without the ball, and he defended well today. He shot from the wing, top of the key, in the paint and from three. I want to watch him break a few defenders down and hustle on D before I proclaim him a first rounder, but his scoring canít be overlooked.

Aaron Brooks looked good, heís the fastest player here, ran the break and didnít turn the ball over today. Rashad Jones-Jennings was gobbling up boards, he used his wide frame very well. Gotta watch him some more tomorrow.

Game 2 (Teams 2 and 5)

Man, I like Jared Jordan. If Jordan Farmar and his diminutive frame can play next to Kobe, Jared Jordan has to have a place as a backup in the NBA. He passes insanely well. He runs the break, he penetrates and kicks and he directs his team. The kicker: when team 5 trapped him in the backcourt, he calmly stepped back away from the defenders and launched a floating pass across court. One dish later and it was an easy bucket. The only thing is he has a sort of awkward two-handed release. Not quite a Shawn Marion shot, but a little unorthodox. That may be me looking for something not to like though, because he was money all day.

Taurean Green showed up too. He was efficient, going 3-4 from the field, including a long three and a few perimeter jumpers. He set his team up, he penetrated and he defended Sean Singletary and Bobby Brown very well, both quick guys. Did I mention Joakim Noah, Al Horford and Corey Brewer rolled into the gym to support Taurean Green, and he promptly took a bad shot? He recovered quickly though, hitting a long jumper at the end of the shot clock. Those Gator boys went nuts, with Joakim Noah shouting "T-Green! T-Green!" At halftime Noah and Major Wingate jawed at each other, reliving old SEC glories. The coaches seemed thrilled that Noah was blabbing louder than they were. Anyway Taurean played real well. He will get drafted, he is undersized, but he can shoot pretty well and he comes from a winning program.

Aaron Gray had 16 points on 5-9. He got to the line a lot. He has a knack for drawing contact, and he seemed deliberate in the post. He needs to improve his footwork because people will go around him when he defends quicker 4s. The league is filling up with Amareís and Boshís and Gray is sort of a throwback big, but thereís room for post-scorers in the league, as long as they can move their feet and defend.

Sammy Mejia had 14 on 7-12 from the field. Heís so efficient. He doesnít dominate games, but he gets his points in a variety of ways, and scouts love to see guys who can do it all. He can shoot for sure, and he will be able to get shots off in the league because heís got long arms. But he can penetrate as well. He slashes well, he has great hands and heís smart. Heís my favorite player here.

Coleman Collins scored 13 points, but he shot 4-13. He also led all rebounders with 8. He was genuinely down-trodden after the game, because Team 5 lost. These games mean nothing except for the individual performances, and Collins felt bad for his teammates, the same guys who became his teammates 2 days prior. I love this enthusiasm. Also Collins is a big with pretty quick feet. Weíre gonna see what he does tomorrow, because Iím predicting something sick.

Ali Traore has had 14 personal fouls in his last 2 games. Did I mention thereís forced subs in each game? So in about 20 minutes of game play he managed 14 personals. I just got goosebumps. The problem is heís got some skills, but he doesnít know how to play under control.

Dominic McGuire is an undersized big (about 6-6) or a wing who plays bigger, like Dudley. But this guy can jump through the roof. He scored 11 points on 4-6 from the field, including some really nice slashes through traffic. He can board and defend bigger guys. Iím going to watch him more Friday as well.

Major Wingate shot free throws for at least a half hour after the game. Love it.

Game 3 (Teams 3 and 6)

The point guards are truly the class of this camp, and people say this draft is light on points, with Mike Conley and Acie Law the only two expected to go in the top 15. There are some gems though. I noticed Portsmouth Camp All-Star Dashaun Wood yesterday and he delivered again today. He had 15 points with 3 assists. Heís quick and heís smart. He didnít turn the ball over, and he took it to the rack with no fear despite his diminutive size.

Plus thereís Ramon Sessions. This guy is spectacular. 16 points, 5 assists and a host of directions to his teammates that put them where they were supposed to be. He directs his team like a true point guard should. He defended very well, even though he gives up some quickness to Wood and Dominic James. I love his game, his intensity and his IQ. Someoneís going to love him when they pick him.

Demetris Nichols wins player of the day honors. He scored 17, he hit 3-4 from three-point range and he ran the floor. Heís listed at 6-7, which I donít believe (donít trust media guides) but he looked phenomenal. I talked to him after the game and he seems genuinely humble. Heís gonna be tough for teams to pass on at the top of the second.

Then thereís Daequan Cook. He can really shoot, but he makes ill-advised lobs all the time (Iíve seen at least 4 this week) and he tries to thread the needle when itís not feasible. He needs to be more efficient in all aspects of his game, but heís genuinely long and quick, and heís going to get better.

Joseph Jones is a big boy with a knack for the boards. Heís a legitimate 6-9, 250. he scored 12 points on 5-7 from the field, mostly on put-backs and close-range hooks. I like his toughness. I want to watch him defend some of the smaller, quicker guys Friday.

Friday will conclude the festivities, and Iíll be giving a camp overview. Check insidehoops.com for all you can eat.



NBA PRE-DRAFT CAMP DAY 3



By Woody Wommack

A look at the three games from Day 3 of the NBA pre-draft camp:

Game 1 Team 1 evened its record to 1-1 with an 88-85 victory over Team 4 during play in the early afternoon on Thursday. Trey Johnson (Guard, Jackson State, 6-5, 218) led the way for Team 1 with 16 points on 6-14 shooting from the field.

Team 1 was in control for most of the game until Brandon Heath (Guard, San Diego State, 6-3, 197) tied the game at 74 with a lay-up late in the second half. The game then went back and forth and was tied again at 82after Heath had an easy dunk after a break away steal. Then with 43 seconds remaining, Mohamed Abukar-F-San Diego State (6-10, 216) hit a 12-foot jump shot from the right side to put his team up 86.

With just under 15 seconds remaining, Team 1 guard Mustafa Shakur (6-3, 185) took a charge at one end, and then had a lay-up attempt blocked, but the referee ruled the call a goal tend sealing the deal for Team 1. The call drew boos and jeers from the crowd of media members and NBA front office officials, most of who felt the shot was blocked.

Jared Dudley (Forward, Boston College, 6-7, 225) and Aaron Brooks (Guard, Oregon, 6-0, 175) continue to draw the most media attention in post-game interviews.

Chris Richard (Forward, Florida, 6-9, 255) had one NBA scout very impressed after a strong showing in the morning game. The scout said Richard is a ďbangerĒ and the type of player scouts love.

Richard also took a blow to the face during the game, which required stitches, his status for Friday is unknown.

Guys who stood out:

Brandon Heath (G, San Diego State, 6-3, 197) Heath did a nice job of pushing the ball up court and getting to the basket, he showed that he can be a floor general and had many members in the stands talking after the game.

Reyshawn Terry (F, North Carolina, 6-7, 210) After a poor showing yesterday Terry bounced back with 13 points on 4-7 shooting in the game Thursday morning. Terry showed a nice touch around the basket and showed scouts he could connect from the free throw line going 5-6.

Guys that didnít do so well:

James Hughes (F/C, Northern Illinois, 6-11, 220) Hughes missed the game because of sickness and with little time left to make an impression this could have been his last chance. If he doesnít compete on Friday he could be headed overseas if he wants to be playing basketball professionally.

Marko Lekic (F/C, Serbia, 6-10) It wasnít a good morning for big men as Lekic was the only player on either team not to score a single point in the morning game. He also only played seven minutes and still managed to foul out while grabbing as many rebounds and he had turnovers, two. Lekic needs to show he can play physical without with fouling or heíll be headed back to Europe next season.

Early Afternoon Media Interviews:

The afternoon session at the 2007 Orlando Pre-Draft camp started out with likely the only appearance to feature all of the top 12 prospects in the same place at the same time until draft night in New York City four weeks from now.

From Greg Oden and Kevin Durant, to Corey Brewer and Joakim Noah, each player was available to the media for 30 minutes. The only big names missing from the event were Kansas forward Julian Wright, who had been scheduled to appear but canceled at the last minute, and Duke forward Josh McRoberts who apparently thinks so highly of himself that heís not making any appearances before his private workouts with teams.

About 75 media members from all over the country crammed into a meeting room at the local Radisson Hotel, just for a chance to talk with some of the athletes. The highlight of the hour-long session had to be when Noah received word from one of the media members that his college coach Billy Donovan was close to agreeing to become coach of the Orlando Magic. Noah could be heard shouting loudly in the room, and even paused from interviews to call friends to find out if the news was true. While Noah was shocked by the news, Greg Oden didnít bat an eye and continued to field questions from reporters often joking and clearly enjoying the experience.

Game 2

Back at the Milk House Arena at Disneyís Wide World of Sports the second game of the afternoon tipped off around 5 p.m. The game featured an intriguing match-up of Team 2 vs. Team 5. Bobby Brown, the starting point guard for Team 5 came out looking fast and effective against defenders Jared Jordan and Taurean Green. Brown did a much better job driving to the basket and drawing fouls against both defenders.

As far as Jordan is concerned I think a team would be crazy to let him slip past them in the second round of the draft. Heís being called the Steve Nash of the Pre-Draft camp, and coming from a small school such as Marist the only doubt has been whether or not he could play as well against first class competition, and I think his play as made the answer to that question a resounding yes. His defense still needs a little work and quicker players like Brown may give him problems, but I think he can develop into a solid NBA point guard.

Antanas Kavaliauskas from Texas A&M showed off his leaping ability early-on in the first half on a break away dunk. Kavaliauskas caught the ball in stride and took off from just outside the paint for a monster slam that brought his teammates to their feet. Heís still having trouble defending other big men such as Aaron Gray, but heís definitely a scorer that could do some damage with the right NBA squad.

Coleman Collins did a nice job drawing contact while driving to the basket against Kavaliauskas, drawing multiple fouls against the big man and earning trips to the line. Collins is a very physical player and isnít afraid to get down and dirty when he needs to.

Gray had some problems with the officials, getting called for a three second violation half way through the first half. He shook his head in disbelief and as far as Iíve seen that was the first such call of week. Gray also missed more than one jump hook shots from the right side of the court. The defense of Ali Traore was clearly getting to Gray who may not be accustomed to such a physical defender.

As mentioned earlier Green was matched up against Brown on both ends of the floor and had trouble controlling him defensively. Greenís stock has been dropping, but he recently hired an agent and is no longer eligible to return to Florida, so he has to play well tomorrow and impress during individual workouts if he plans on getting drafted. He did however have a beautiful up and under reverse lay-up after going coast-to-coast while weaving in and out of Team 5 defenders.

Major Wingate showed the type of emotion that scouts love all game long. Whether it was diving for a lose ball on the floor or yelling in frustration at a rebound he failed to grab he was consistently giving full effort.

Stephane Lasme had the dunk of the night on a rim-rattling jam set-up by an excellent bounce pass from teammate Jordan. Jordan also set-up another monster dunk by Wingate off an inbounds pass and back screen from Lasme. Wingate slammed the ball with authority, yelling as the ball flew through the basket and off his leg out of bounds. The show of emotion drew Wingate a warning from officials, but the highlight reel dunk was clearly worth it.

Sammy Mejia from DePaul also set-up a beautiful dunk for teammate Traore on an alley-oop pass late in the second half. Sean Singletary, a guard from Virginia showed off his range by nailing a straight away three pointer from way beyond the arc while being tightly defended by Reynolds.

Mario Bogan provided the last highlight of the game when he nailed a tightly defended 20 foot baseline jumper in the face of Fresno Stateís Dominic McGuire.

Random Game 2 Notes:

At around halftime of this first game Noah and teammates Al Horford and Corey Brewer entered the gym to show support for their former running mate Green. The three were mobbed by TV cameras and left the court area quickly after the game concluded.

ESPN Analyst and former head coach Fran Fraschilla was in attendance during game two, closely watching the action with multiple NBA scouts.

Game 3

In the third and final game of Thursday night Team 6 tangled with Team 3. The action was high scoring and intense from the get-go, especially inside with the intriguing match-up of Winthropís Craig Bradshaw battling with Syracuseís Daryl Watkins.

Scouts were a buzz about Bradshawís toughness and itís almost a lock heíll be drafted. The question is where does he go? Itís my contention that had Bradshaw gone to a bigger school he might be a potential lottery pick at this point in his career. He played impressively in the NCAA tournament in games against Notre Dame and Oregon, and seems to be a perfect fit for a team like San Antonio.

Another intriguing match-up was at shooting guard as media darling Coby Karl battling with former Marquette star Dominic James. James is an aggressive defender but sometimes too aggressive as Karl used his craftiness to draw fouls against the quicker James. Karl was also checked by DaShaun Wood, a score first guard that needs to improve his defensive skills in order to play at the next level. Karl had no problem creating separation from the smaller Wood and took advantage by taking many open perimeter jump shots.

Wood did do a nice job of passing more than he did in Wednesdayís action. Early in the first half he grabbed a long rebound and made a great outlet pass to Joseph Jones for an easy lay-up. Jones also drew a foul on the play and converted the free throw for a three point play.

Ramon Sessions has been impressive passing the ball throughout the week and didnít let up on Thursday night. During one trip down the floor he hit Virginia State forward Avis Wyatt in stride and Wyatt promptly caught and shot the ball from the right baseline. The 15-foot jumper showed Wyattís ability to catch and shoot, something rare for a man of his size.

Ohio State forward Ron Lewis has been anything but impressive so far but seems to have adjusted to the NBA three point distance. Early on in the second half Lewis connected on a deep three pointer from the left side over the outstretched arms of defender Karl.

Ohio State early entrant Daequan Cook was matched up defensivly with Nevadaís Marcelus Kemp, another early entrant. The two battled extensively throughout the game with neither player clearly getting the best of the other. Cook has played better and some scouts have said he could go as high as the top 20 based on his potential. Even though Cook had a bad second half to his college season, it is believed that had he may have clashed with college coach Thad Matta and that may have affected his performance.

Kansas State forward Cartier Martin had a difficult time finished at the rim late in the second half. He seems to be a 2-3 tweener right now and that could affect his draft chances. InsideHoops.com sees him struggling to get taken.

The game as a whole was one of the most entertaining of the week with the outcome not being decided until the final minutes.

Random Game 3 Notes:

Marquette Head Coach Tom Crean was in attendance to watch his former player James. Crean wasnít the only college coach in attendance, Kansas assistant Danny Manning was seen taking in the action as was former Arizona star and current Arizona assistant Miles Simon. Crean told insidehoops that he and other coaches were at the event to support their former players.

Autograph seekers have waited hours on end outside of the Wild World of Sports gates waiting for potential starts to come out. They have been disappointed as former greats such as Michael Jordan, Larry Bird, Tim Hardaway and Danny Ainge have all been spotted appeasing the autograph seekers.

Many of the media members never returned from the early afternoon interview session with the top prospects. In fact the gym was rather empty compared to Wednesdayís action.

Just as Wednesday was consumed by Kobe trade talk Billy Donovan consumed the campís attention on Thursday.

Back to top of page.





NBA PRE-DRAFT CAMP DAY 2



By Jake Chapman

Morning Scrimmages (not actual games):

For as many mistakes as Iíve seen him make so far, Mustafa Shakur has great court vision. He does have the tendency to leave his feet with the ball, but he also threads needles with sweet passes and has drawn some ďaaahsĒ from scouts and reporters in the crowd. Iím not sure heíll get drafted; his jumper needs work and he can play out of control, but he has made some incredible passes in days 1 and 2.

Daequan Cook really stands out on the floor, but sometimes for the wrong reasons. Heís fearless and young, which can be a wonderful and terrible combination at the same time. He made some bad passes, once trying an ill-advised lob, but he also has a nice jumper, and his age and athleticism have got to make scouts stop and take notice. He definitely couldíve used another year or two in college, but if he can put forth the work in his first few years in the league he has a future in the NBA.

My love affair with Major Wingate continues. Last night he told me had a good face-up jumper. Today he showed me. Three times this morning he hit 17-footers from the baseline, and one was legitimately contested. Heís not as thick as Drew Gooden, but their games are similar and he really gets after it. Iíd definitely take a chance on him.

Cartier Martin played well. Heís another guys without a real position, looking like an undersized four, or a three who canít penetrate. If he adds some bulk and keeps his quickness he may get drafted. He had a few nice plays helping out on defense, and scouts love to see that.

Stephane Lasme looked good again. He's increasing his draft stock. I love his motor.

Also, J.R. Reynolds showed some real quickness and Jared Jordan continued to set up his teammates. Jordanís vision is phenomenal.

The rest of the day will be actual games with refs, so weíll get some good stuff from them:

GAME 1

Game 1 was pretty entertaining, and it was dominated by the point guards. Team 5 played Team 6, and Ramon Sessions stole the show for Team 6, who won handily. First the team 6 guys who played well.

Ramon Sessions looked phenomenal. Nevada wasnít just a good team because of Nick Fazekas, they had a point guard who set everyone up. Sessions is listed at 6-3, which may be a bit liberal, but his quickness caught me (and Team 5) off guard. He got to the lane whenever he wanted. He dished, he finished, he pump-faked and got Aaron Gray off his feet, then calmly hit a ten-foot banker from the right side. He cut without the ball when he found himself on the wing. He hit freethrow-line-extended jumpers, and a little running hook in the lane. He directed his teammates when the play broke down. He was money, pure and simple. He said after the game heís relaxed because he has college teammate Marcellus Kemp here with him, I think heís relaxed because he knows heís the best player here. If he developed a long range jumper heíd be a first-rounder easy.

Sean Singletary was the fastest kid out there. Heís been plagued by injuries throughout his college career so heís still a bit raw, but he pounds the ball low to the floor and seemed as quick as Tony Parker compared to the guys he was playing. He put a juke on Coby Karl and almost broke his ankle, then stepped back and hit a jumper from the foul-line extended. He needs work, he tries to go too fast at times and can lose focus, and he was called for just one carry when he couldíve been called for three or four, but if he polishes his passing skills heíll be a contributor in the league soon. Heís a tiny little guy, but so is Iverson. Did I just compare Sean Singletary to Allen Iverson? Iím getting carried away.

Aaron Gray is an enigma wrapped inside a question mark. Heís slow, canít defend the pick and roll on the perimeter, and heís going to get beaten up at the next level because heís soft. But, he will get drafted because heís a legitimate seven-footer with post moves. He looked like he didnít mind banging down low today, but he was easily the tallest guy on either team. At times he looks like an outstanding offensive player, and at times his close range hooks fell off the rim. Iím sure someone who needs low-post scoring will draft him early in the second or maybe even late in the first.

James Mays can play in the NBA. Heís raw but insanely athletic (they often go together donít they?) He can jump out of the building and I even saw him put the ball on the floor without much fear. Heís going to block shots and play great defense, and thereís room in the league for guys like that. Think Trevor Ariza only bigger, or Stromile Swift only smaller. Someoneís going to take a chance on him and be happy they did. I talked to him after the game and he seemed to have a good head on his shoulders. Watch out for him.

DJ Strawberry is one hell of a defender. Active hands, quick feet and a good basketball IQ. Heís a bit lost offensively, but heís easily the best perimeter defender Iíve seen here. Is that enough to get him drafted? Maybe notÖ but his work ethic will lead him to the league someday. See: Bruce Bowen and even Anthony Parker.

Bobby Brown is intriguing. Heís very quick and overly aggressive. But as a scout or front office guy Iíd rather see someone getting after it on D then getting blown by. Heís not great offensively, but as the game was dying down and the play got sloppy he was still going a hundred miles an hour. I love to see that.

Some other guys stood out but not for the right reasons. Justin Doellman can shoot threes, and thatís it. Heís a big boy, listed at 6-9, but heís got a slow release and he jacked up some bad shots. Teams love big guys who can get shots off, but the Okurs and Radmanovichs of the league have much quicker releases than this guy. Curtis Sumpter couldnít get anything going, then started pressing and ended up playing worse. I donít want to beat up on too many guys, so Iíll reserve judgment on some of the others until we see more. The second game begins soonÖ I canít wait.

The house is really filling up. Bird. Jordan. Isiah. They are all here. Let the fun begin.

Game 2

Did I say fun? I meant painstakingly boring. Game 2 was abysmal. Turnovers, sloppy play and miscommunication made for a pretty awful game of basketball, especially compared to the contest earlier in the afternoon. But alas we were gathered in Disneyís Wide World of Sportsí Milk House (thatís actually what itís called) to evaluate individual players, and there was a lot to be learned in Game 2.

Zabian Dowdell showed up. He found Herbert Hill on a great feed early and looked very confident out there. He didnít exactly impose his will on the game, but he was efficient and chose his spots. The Virginia Tech product has more to show, but he played relaxed and that goes a long way. He goes to his left almost every time though, and heís going to need to work on his right.

Hill looked great. The Providence product played nice help defense, got some quality rebounds and finished around the rim. He doesnít stop pounding the boards, and he showed on a pick and roll and got back into position like a professional. He said he felt good about his performance after the game, then promptly asked me if I had a stat sheet. He was out of luck. I'm pretty sure Hill can play in the league.

Mohamed Abukar bounced back from first-day jitters and shot the ball very well from long-range, and hit at least two fairly contested shots. He has a smooth catch-and-shoot motion, but may lack the ball skills to be a successful wing, and heís too thin to play the four. Heís an interesting prospect, and he gave me the sound-byte of the day. I asked almost every guy I talked to how in just one day the teams had formed this sense of camaraderie and why the games were so competitive score-wise, when everyoneís individual goals were probably their overriding motives. A majority of players waxed poetic about competition and how as basketball players they want to win every game they play no matter who their teammates are. Not Abukar. He said that when thereís this much money on the line, you want your team to win, because every little bit helps. He instantly became my favorite player here.

Yesterday I also loudly praised Sammy Mejia and Stephane Lasme, but both came a bit down to Earth today though they still played pretty well. Both have genuinely sharp basketball IQs. Lasme made a few nice blocks, and finds subtle ways to affect games. He outplayed Rashad Jones-Jennings and James Hughes.

Mejia wasnís superman like yesterday, but heís still pretty darn good. When a pick forced a smaller defender onto him, he immediately backed him down. Excellent recognition. Then he pulled a jab-step, step-back 20-footer. This is one of my favorite ďwhy does everyone think theyíre good at this?Ē moves but he pulled it off. He also split two defenders off a screen and found Yue Sun in the corner for a three as the shot clock sounded. Iím waiting to see him move well without the ball, which he hasnít yet shown.

Yue Sun is fascinating. He has no right hand whatsoever, but a sweet stroke. Heís listed at 6-9, which heís not, but he is long. He looks like Keith Van Horn, actually. And in the past two days Iíve seen him play the passing lanes and pick off at least 3 passes. Heís pretty quick, but rail-thin. Heís one of those guys that shouldnít get drafted, but may by an overzealous GM. Canít wait to see it unfold.

Taurean Green settled down and hit some shots. Heís nowhere near the best point guard here, but he can shoot, heís quick and he came from a winning program. These are all good things, but he shouldíve stayed at Florida for sure.

Ali Traore had 4 fouls with about 3 minutes left in the FIRST half. Up until then though he was kinda solid. Heís a bit out of control, but physically heís getting there. The French product will probably be back overseas soon though, heís just too raw.

Team 2 won 80-76.

Game 3

This game was much more fun. Point guards Aaron Brooks, DaShaun Wood, Jamaal Tatum and Dominic James all pushed the ball and ran wild. Brooks was fastest with the ball, but he got sloppy. DaShaun Wood won the position battle. The little guy from Wright State whoís only in Orlando because of his performance at the Portsmouth Seniors-Only camp was able to push the tempo while staying under control. Plus he said after the game heís trying to represent small schools from the Midwest. If only Abukar hadnít been so honest 2 hours earlier, Wood would win sound-byte of the day honors. I honestly canít say where Wood ends up on draft boards, but heís got some Tyronn Lue in him. And if I had a choice between a young, hungry Tyronn Lue and the actual Tyronn Lue, Iíd take the young one.

With that said, the obvious stars of the game were Reyshawn Terry and Ron Lewis. Lewis looked like heíd been forcing things until tonight, where he looked like NCAA tournament Ron Lewis. Heís absolutely money from the top of the key, OSU and Xavier fans can attest to that. But he also slashed and played some good ball defense. He was glowing after the game, well aware that heíd played well. And combined with his solid college career, someone will take a chance on him.

Terry on the other hand wonít be a chance at all. Just judging by how he played here, he could probably be a first-rounder. He shot the three, played help D, operates very smoothly and plays bigger than his actual size (listed as 6-7, 210 lbs.) Like with a lot of these guys, itís hard to figure what position heíll play, but heís too good an athlete to slip too far into the second. He looked great tonight.

And now to the wild-cards. Kyle Visser is skilled. Heís big, a little thin, but shoots real well. He has soft hands and pretty quick feet. He needs a left hand go-to move in the post and a little bulk and heíll contribute soon. He should get drafted just because of his jumper, and he seems bright enough that he may play in the league sooner than later. Weíll see.

My last two players of note are Ekene Ibekwe and Caleb Green. Ibekwe has Chris Boshís build and Ben Wallaceís jumper. But he can block shots like a madman and he moves his feet very well. Bosh can be that thin because heís an inside-out offensive machine. If Ibekwe only offers defense, then heíll have to bulk up. But he has a knack for challenging shots, and thatís always good.

And finally, Caleb Green, the source of my ďI love basketballĒ moment of the day. Green went diving for a loose ball and slid on his back into (and under) the scorerís table. Heíd batted it out as he tumbled, so his fall and slide were for naught. When he got up, the smile on his face almost wrapped around the back of his head. You have to love that. Plus he made a few nice passes, including one great entry pass which was quickly converted, and made some real heady plays. Anyone who knows how to play the game and dives head-long for loose balls can play on my team any day. Team 4 won 78-67. Check InsideHoops.com tomorrow, where the Milk House will be udderly thrilling! Did I really just make that joke? Man itís late.





NBA PRE-DRAFT CAMP DAY 2



By Woody Wommack

The first day just featured drills and some light scrimmages. The real fun begins today, Day 2, with actual games.

Game 1

ORLANDO Ė The first live game of the 2007 NBA Pre-Draft Camp wasnít really much of a contest as Team 6 cruised to a 106-84 victory over Team 5 in the early hours of the afternoon on Wednesday.

Ryvon Covile (6-9, 250), a center from Detroit-Mercy led Team 6 with 19 points on 8-11 shooting. Coleman Collins (6-8, 205) a forward from Virginia Tech led all scorers with 22 points in a losing effort for Team 5.

The game was never really close as Team 6 jumped out a 16-6 lead early in the first half. Team 5 pulled to within five points at 34-29 after a dunk by D.J. Strawberry, but any sense of hope was quickly dashed after Demetris Nichols-F-Syracuse (6-7, 210) made a three-pointer and Coby Karl-G-Boise State (6-5, 194) followed his lead hitting back-to-back three-pointers to extend Team 6ís lead to 43-30.

Coaches and scouts alike were praising Karl, who looked anything but sluggish as he scored 11 points and dished out six assists. Ramon Sessions-G-Nevada (6-3, 190) also had scouts buzzing as he led his team with seven assists, while grabbing five rebounds and scoring 10 points.

The score at halftime was 56-46 in favor of Team 6, who led the entire contest.

Both teams have 10 players on their roster, and both coaches cleared their benches every five minutes of game time.

Each team was also called for traveling violations many times, and some of the players said afterward that they were just getting used to the NBA rulesÖTwo 20-minute halfís were played, with a three-minute rest for halftime. NBA referees officiated the contest, which lasted 1 hour and 16 minutes.

Renaldas Seibutis (Guard, Lithuania, 6-5, 180) Seibutis showed a nice shooting touch during early morning warm-ups, making 4 consecutive three-pointers at one point. He also did a nice job setting screens, and showing he wasnít afraid of contact inside. Washington Wizards scouts were very impressed with Seibutis and if he can continue to impress he may work his way into the second round of the draft.

Jeremy Hunt (Guard, Memphis, 6-5, 210) Hunt made three consecutive 3-pointers during the early morning drills, and had scouts talking about his shooting stroke. Hunt needs to show that he can carry his touch into the team games in order to keep his buzz growing.

Aaron Gray (Center, Pittsburgh, 7-0, 275) The big man showed a nice touch around the basket during the game, scoring 15 points and grabbing nine rebounds. Gray also consistently made 15-18 ft. jump shots during shooting drills, showing that he can pull defenders away from the basket despite his size.

Bobby Brown (Guard, Cal. State Fullerton, 6-1, 170) In a point guard-light draft Brown has a chance to raise his stock greatly in Orlando, unfortunately he hasnít capitalized so far. His long range jump shot just wasnít dropping this morning, and heíll need to prove he can shoot the ball in order to get drafted.

Reyshawn Terry (Forward, North Carolina, 6-7, 210) The stands were buzzing about Terryís jump shot but unfortunately for him it wasnít the good type of buzz that players are looking for here in Orlando. Terryís unorthodox shooting style drew laughter from some scouts, and has this reporter wondering whether or not itíll hurt his stock.

Dominic McGuire (Forward, Fresno State, 6-7, 210) McGuire got grouped with the guards during shooting drills and missed eight consecutive three pointers at one point. In my opinion his game is more suited for the inside and mid-range area, and after shooting only 29% from beyond the college arc last season, I think he should stay inside and use his size to his advantage.

- Edene Ibekwe-F-Maryland (6-8, 215) had the dunk of the morning after a beautiful lob pass from Jared Jordan-G-Marist (6-2, 186)

- The players are now divided into six teams, and will drill with their teammates for the rest of the camp

- Two more games are scheduled for this evening

- NBA Scouts and Front Office members seem to love their mints, boxes of Certs and Altoids can be seen as theyíre passed from scout to scout

- Washington Wizards scouts discussed racquetball strategy during a break from the basketball action.

Game 2

Jared Jordan-G-Marist (6-2, 186) continued to impress coaches and scouts as he helped guide Team 2 (1-0) to a 80-76 victory over Team 1 (0-1) on Wednesday afternoon. Jordan lead his team with 5 assists in only 19 minutes of play, and also contributed six points on 3-4 shooting from the field.

Some people in attendance were comparing Jordan to two-time MVP Steve Nash, because of his ability to put his teammates in a position to score, and his ability to score himself.

Team One was led by Mohamed Abukar-F-San Diego State (6-10, 216) who scored 16 points, grabbed six rebounds and shot 6-7 at the free throw line. Abukar showed scouts that despite his rather thin frame that heís not afraid to bang inside and work to get to the free throw line.

The afternoon game was a vast contrast to the play to took place in game one earlier on in the day. Defense was the key and the first points of the game werenít scored until Ivan Radenovic-F-Arizone (6-10, 240) drove to the hole for a lay-up with 17:31 left in the first half. Team 2, the eventual victory, was even slower to get on the board, not scoring until Mario Boggan-F-Oklahoma State (6-7, 235) made a 12-foot jumper with 16:03 on the clock.

One of best position-on-position battles took place between Tauren Green-G-Florida (6-0, 170) and Mustafa Shakur-G-Arizona (6-3, 185). Shakur continually posted up the smaller Green, and showed his quickness by driving by Green and getting to the free throw line. On the other end Green showed off his long range, as he connected on 3-4 from behind the arc.

Game 3

The second day of the Orlando Pre-Draft Camp closed with a fury as Team 4 up-ended Team 3 78-67. Brandon Heath (Guard, San Diego State, 6-3, 197) led the way for Team 4, scoring 17 points and also recording two steals in 18 minutes of work off the bench.

Team 3 was led by Caleb Green (Forward, Oral Roberts, 6-8, 250) who scored 14 points and grabbed eight rebounds. Green showed a strong presence inside, and also a nice touch from the free throw line, converting all six of his attempts.

The best all-around stat-line of the final game on Wednesday came from former Oregon guard Aaron Brooks (6-0, 175). Brooks filled up the stat sheet with 10 points, six rebounds, five assists and two steals. Brooks said after the game that he was trying to showcase his all-around game and focus less on scoring, and more on trying to help his teammates score.

The most disappointing player of the third game on Wednesday had to be Ohio State guard Daequan Cook (6-4, 195). Cook, who probably would have been a first rounder last year if he were allowed to go straight from high school to the NBA, had a terrible stat-line going 3-10 from the field and committing a team-high eight turnovers. If Cook doesnít improve in play on Thursday it may be in his best interest to mend fences with Ohio State Coach Thad Matta and return to school.

Back to top of page.





NBA PRE-DRAFT CAMP DAY 1



By Jake Chapman

Some thoughts and observations from day 1 of the pre-draft camp in Orlando. I watched teams 1 and 2 scrimmage each other for a bit longer than an hour and the following players were on those teams. Team 1 Ė Mohamed Abukar, Russel Carter, Zabian Dowdell, Herbert Hill, Quinton Hosley, James Hughes, Trey Johnson, Rashad Jones-Jennings, Ivan Radenovic, Chris Richard and Mustafa Shakur. Team 2 Ė Mario Boggan, Taurean Green, Jared Jordan, Antanas Kavaliauskas, Stephane Lasme, Sammy Mejia, JR Reynolds, Yue Sun, Ali Traore and Major Wingate.

Some notes I took Ė Chris Richard and Major Wingate both have NBA bodies. Theyíre physical, they play hard-nosed low-post defense and they rebound. I found out after the session that the two of them have practiced together for the last four or five years. Richard is huge but tends to play out of control at times on offense, possibly just a case of trying to prove too much. Playing behind such great bigs at Florida surely hindered his development, but with some teaching he could be a contributor in the league because of his physicality on defense and wide frame. He almost reminds me of Dale Davis. Wingate shocked me. He hustled for many loose balls, banged around with Richard and frustrated him, and said afterward that he compares himself to Rasheed Wallace because of his jump shot. He didnít get many open looks today but if he makes hustle-plays like he did today and shows a quality jumper in the next few days he will help out his status greatly.

Mustafa Shakur and Jared Jordan both did great jobs setting the offense up. They both hit slashers on a number of tough looks, and Jordan was the most confident kid I saw today running the fast break. Shakur has some bad tendencies, I watched one sequence where he forced a fall-away jumper which missed, then left his feet on the defensive end 20 feet from the basket, allowing an easy penetration. Heís a very skilled passer especially in the half-court set, but some of his tendencies will drive coaches crazy. Jordan didnít attempt many shots and it probably served him well because his passing skills looked great. He reminds me of Steve Blake and from what Iíve heard heís a pretty good shooter. I like his game a lot. Taurean Green was out of sync. He had a few nice slashes and protected the ball in traffic well for a guy his size, but he turned the ball over a few times and didnít command the offense well at all.

Mario Boggan and Antanas Kavaliauskus were two guys Iíd seen a lot in college and I thought with their jump shots theyíd be able to find a place in the league. They donít really have positions, but guys like Ryan Gomes and Jason Maxiell have proven in past years that undersized power forwards can find specialized roles on teams. So far Iíve been wrong. Kavaliauskus plays okay defense in the post, but heíll get pushed around at the next level because heís so skinny. Heís way too slow too. And Boggan looked awful. I know he can shoot based on games Iíve seen, but he has no moves off the dribble and forced up some terrible shots today. Letís see if he can recover in the next few days, because he truly has no position and so he must find a niche and exploit it.

Russel Carter has some skills, but he tries to do too much. He has a really weird body, almost like Fred Jones but with longer arms. He has big shoulders and a big chest and very long arms and he showed some athleticism, but he also took some really bad shots.

Trey Johnson looked to have a sweet stroke on the few shots he took, and also ran the floor real well. Heís quick and strong, and averaged 27.1 ppg in college. He will find a spot on someoneís roster, but his defensive skills are still a question mark.

Now on to the good stuff. I was very impressed with Sammy Mejia. He jumped out of the building on one play and hit a spot-up 20-footer on the next. A minute later he was playing some great D and so I started watching him. Time and time again he got into the lane without a problem. Heís long and athletic like Trevor Ariza but seems to have better hands and a good jumper as well. Maybe this was the best weíll see from him this week, but if he has a few more workouts like today teams are going to be all over him. He may even creep into the first round.

Also Stephane Lasme was very impressive. Lost in the banging between Richard and Wingate was the athleticism and quick feet of Lasme. He hustles, moves very well and seems like a genuinely smart basketball player. He didnít show too many offensive skills, but he can be a great dirty work guy. Iím keeping a close eye on he and Mejia the rest of the week.

Those are some things that stood out, some other guys I watched like Ivan Radenovich and Mohamed Abukar looked real bad and others still like Zabian Dowdell and JR Reynolds just didnít stand out. Iíve heard good things about those two and Herbert Hill so Iíll keep an eye on them in the coming days.





NBA PRE-DRAFT CAMP DAY 1



By Woody Wommack

The action started late on the first night of the 2007 Orlando Pre-Draft Camp, with drills running from only 6-8p.m. and even though the players scrimmaged, no scores or statistics were kept. However, General Managers, Scouts and Coaches had plenty of information to digest as the camps 62 players made their first impressions.

The day began with a check-in period at 5 p.m. and there were plenty of big names in attendance. From Michael Jordan to Elgin Baylor, almost every NBA Coach and GM could be seen arriving.

Inside the gym the players began stretching and warm-ups at around 6 p.m. Many players arrived late Monday or early Tuesday, and were clearly a little fatigued as things began.

Coby Karl (Guard, Boise State, 6-5, 194), the son of NBA coach George Karl, who is still recovering from a surgery to remove a cancerous tumor in his thyroid was especially sluggish during the warm-ups, but picked up the pace when the practicing began and later told InsideHoops.com that he felt fine during his first day in Orlando.

The consensus among most of the media and front office members was that the real action would start on Wednesday, and Tuesday night was just sort of an orientation for players.

Guys Who Stood Out:

Jared Jordan (Guard, Marist, 6-2, 186): Jordan showed how he averaged over 8 assists per game during his senior season. He consistently hit his teammates with passes giving them opportunities to score. Jordan is someone who will probably go un-drafted, but he impressed me during his first audition to NBA scouts.

DaShaun Wood (Guard, Wright State, 5-11, 180): Another small school guy who came up big. Wood hit three 3-pointers in a row at one point, and showed scouts that he could create his own shots despite his small stature.

Guys Who Didnít Do So Well:

Russell Carter (Guard, Notre Dame, 6-4, 220) Carterís jump shot just wasnít dropping, especially in transition. It could be a case of jitters, but only shot 43% from the field as a senior, and he needs to show scouts that his shooting has improved if he wants to sneak into the back half of the draft.

Ron Lewis (Guard, Ohio State, 6-4, 195) Lewis may have been the emotional leader of Ohio Stateís national runner-up team, but he needs to show that he can shoot the NBA three in order to get drafted.

Random Notes and Observations:

- The floor at the arena was very slippery, and many players could been seen slipping and sliding

- Brian Shaw discussed his job interviews with the Pacers and the Kings with some of the Lakers coaches, saying one interview lasted almost four hours.

- Lakers scouts also had a difficult time figuring out tip-off time for the Cavaliers-Pistons game, trying to figure out what time the game started in L.A. and in Orlando.

- The coaches who ran the drills were encouraging the players to push the ball up the court during almost every drill, perhaps trying to see in what kind of shape the players were in.

- Ekene Ibekwe-F-Maryland (6-8, 215) had the dunk of the day after stealing the ball and throwing it down on a fast break.

Back to top of page.