---
---
---
Mick Foley Interview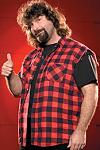 InsideHoops.com editor Jeff Lenchiner recently covered a Nets game in New Jersey. Pro wrestling legend Mick Foley (aka Mankind, aka Cactus Jack, aka Dude Love), who hails from Long Island, New York, was in the stands. The 6-2, 287-pound former WWE single and tag-team champion is a smart, funny, friendly guy -- and we're not just saying this because he's big. Before the game, Foley met with Lenchiner for an exclusive interview.

InsideHoops.com: Who is the greatest athlete you've ever faced in the wrestling world?

Mick Foley: The greatest natural athlete, I've been in there with some guys -- Undertaker, for his size, is an incredible athlete. As a matter of fact, WWE founds have found that some of the greatest wrestlers were actually former basketball players. Undertaker played Division 1 college ball. Kane was a good basketball player as well. Godfather apparently had some games, scored 50 points in a high school game. So a lot of the guys that were good at basketball found those skills to be useful in the wrestling ring.

InsideHoops.com: That's pretty surprising. I assumed about 100 percent or close would be football guys rather than basketball.

Mick Foley: You would think, yeah. But it's just funny how some of the top guys came from the hoop background.

InsideHoops.com: What would fans be surprised to learn about you -- something even hardcore wrestling fans might not know?

Mick Foley: I'm a good dancer, for a big guy. I'm expecting a call from Dancing With the Stars. Stacy [Keibler] did real well, so it's going to kind of be like the Surreal Life. They're going to need a wrestler on every show.

InsideHoops.com: I saw some clips of that. Without even watching the show, I'd have voted for her.

Mick Foley: She was awesome, and let's face it, the fan voting system is great. It gets the viewers involved. But for Stacy to score three out of four perfect tens -- three out of four thirties, meaning three perfect tens and still not even come in second is still kind of -- you hate to say this coming from a wrestling background -- but it seemed almost fixed.

InsideHoops.com: I can't imagine...

Mick Foley: No, I wouldn't know anything about that.

InsideHoops.com: No, me neither.

Mick Foley: Yeah.

InsideHoops.com: What's the highlight of your wrestling career?

Mick Foley: Oh man, I hate to say it's going to be a downer, but I just said it -- WWE called me and said, can you do the Today Show on Friday -- it's not a done deal, and I said yeah, if I can. And tell them that I said I wrote it, that in my second book Foley's Good that Katie Couric holding my son on Halloween, 2001 was actually the highlight of my wrestling career. I know that's not the answer people want to hear, but that's kind of true.

InsideHoops.com: Speaking of books, any books or anything else that you'd like to plug?

Mick Foley: No, no, it's pretty obvious that unless I write a wrestling book, people are not going to read it. I did have a novel out last year, no sense plugging that. I'll plug next year's, next spring's wrestling book.

InsideHoops.com is the web's best basketball site. Read daily.