Knicks sign Randolph Morris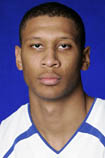 New York Knickerbockers President of Basketball Operations and Head Coach Isiah Thomas announced today that free agent center/forward Randolph Morris has been signed to a contract. As per club policy, terms of the deal are not announced but InsideHoops.com hears it may be a two-year, nonguaranteed deal. That isn't confirmed by a reliable source yet, though.

Morris, 6-11, 260-pounds, averaged 12.6 points, 6.0 rebounds and 1.4 blocks in 89 career games over three seasons at the University of Kentucky. As a junior in 2006-07, Morris averaged career-highs of 16.1 points, 7.8 rebounds and 2.1 blocks per game and earned First Team All-SEC honors in leading the Wildcats to the second round of the NCAA Tournament.

Randolph had declared himself eligible for the 2005 NBA Draft following his freshman year at Kentucky, but did not sign with an agent. After going undrafted, Randolph returned to Kentucky but was forced to sit out the first 14 games of his sophomore campaign. Due to a provision in the NBA's Collective Bargaining Agreement, Morris is prohibited from re-entering the NBA Draft and had free agent status throughout the 2006-07 season at Kentucky.

The Knicks now have a full roster of 15 players.

InsideHoops.com Editor Says: Morris should have avoided the draft altogether until this season. As a freshman in college aside from hitting a high field goal percentage he did very little. His sophomore season was respectable and he got his field goal percentage above 60%, but he still shouldn't have gone pro. The season that just ended was his best, and although his NBA upside is limited, had he gone pro this year I think he would have been a first round pick. Not lottery, though. Anyway, now he's in the league. If he rises to the occasion Morris could earn prime backup minutes behind Eddy Curry. It'll be tough for him to get power forward minutes behind Channing Frye and David Lee.

Have an opinion? Discuss the signing in this forum thread.