---
---
---
Paul Harris does it all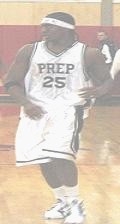 InsideHoops.com Class of 2006 featured player plays tonight in Jordan Classic on ESPNU

Blood, sweat and tears, leaving it all on the floor, wearing your heart on your sleeve - all sayings heard in gyms when Paul Harris' name comes up.

He's one of the best from '06 and heads to Syracuse in the fall after choosing them over Pittsburgh last summer.

Like all the best, he has a repertoire. He'll leave you looking with the crossover and take it to the rim on your help, 6-9, 6-10, doesn't matter. And then he'll pick up the ball handler full court, or just stick with the big man and body him inside. You can't usually do that at 6-3. But 6-3, 225 lbs. and guts is a different story.

A game changer with his defense in the Hoop Summit game a few weeks back, expect the intensity level to rise when Harris gets on the floor at the Jordan Classic and the next level.

PAUL HARRIS' ACCOMPLISHMENTS

- 2004-05 Member of Niagara Falls, NY State Championship team

- 2004 City of Palms Slam Dunk Champion

- 2005 Member of USA Basketball Youth Development Festival Gold medal team

- 2005 ABCD Camp All Star Game MVP

- National Prep Tip Off - helped Notre Dame Prep (MA) defeat two of the top teams in the country in Hargrave Military Academy (VA) and The Patterson School (NC).

- National Prep School Invitational - Co-MVP with teammate Lazar Hayward

WHAT THEY'RE SAYING

"The best way to describe Paul Harris might be what a coach once told me. He said Paul Harris would rather win than breathe." - Tom Konchalski, High School Basketball Scout of 40+ years

"Paul was the unselfish leader, the best player and the best teammate on the best team I've ever had." - Dan Bazzanni, Niagara Falls H.S. Head Coach

"We're more than brothers. He doesn't forget about who did well for him back home even though he's out at prep school. He's a good person more than anything." - Johnny Flynn, High School/AAU teammate, Syracuse '07

PAUL HARRIS INTERVIEW

Here's some highlights of a conversation with Paul during this past season of prep school ball.

Q: Where does the whole leadership thing come from? Why is that a part of you?

A: That's funny. The Winchendon coach asked me the same thing the other day after our game. I don't know, I just want to be in the best. It's just in me.

Q: What was the adjustment like to go from State Champs to a totally new team playing the prep competition and in sometimes empty gyms?

A: I knew everybody was the man at their high school so it was going to be tough coming in here. I just wanted to do what I do, play together, listen and be the leader of the team.

Q: What's it like playing with your friend Lazar Hayward, you guys seem really tight?

A: He's like a brother. He's the reason I really came to Notre Dame Prep. I didn't have to know somebody but it helped the decision. We know how we play, like if I get a rebound, he knows what side I'm going to pass to. We'll both be in the Big East so we'll keep it going.

Q: Can you tell the "thumb story?" That's what it's kind of known as now and it says a lot about you.

A: It was the playoffs. I blocked a shot and thought I sprained it or something, but I decided to keep playing because I wanted us to get to Glen Falls (New York Federation Championship site). We ended up winning and I found out it was broken after. So I told Johnny to get us there, and then I just surprised everybody when I played. I was praying everyday that I could and God came through.

Q: What about the story when you split your mouth open?

A: I went to throw an outlet and it ended up with the other team, and when I threw it I was off balance and fell on my face. I had to get stitches or something in my mouth, Jeff Bishop (GC Ballers AAU coach) did them to close it up. Then the next game was a playoff game and I thought I broke my nose. Jeff asked what I was going to do and I really didn't think I could go now. So he said come cheer us on at least and I planned on doing that anyway. But when I walked in to the game, there were so many coaches there. I didn't bring basketball sneakers but I saw Jeff, and he said he knew already. He had my jersey for me and I just played in my walking sneakers.

Q: What part of your game do you take the most pride in?

A: Defense. You can have an off night on offense but make up for it on D. If I'm missing shots, I'm not going to let somebody box me out on the other end. I'm going to do something good on D.

Q: And what about the game you had with O.J. Mayo at ABCD this past summer? That might turn into one of those summer legends.

A: It was the third time we played. The first time was in the all star game at ABCD two years ago. I thought he was scared because he told me to switch off him. Then at the Olympic Festival he was killin' me. So I respected him a lot after that. His game is real. Then back at ABCD, I knew I had to D him up and not let that happen again. But I couldn't have done it without Johnny Flynn either. If he was getting by me, Johnny was right there to step up and rip him himself.

Q: Anybody you haven't gotten to play that you want to?

A: Kevin Durant. I've seen him get at dudes. I kind of study him.

Q: So what was it like getting up to Syracuse for a game this year?

A: I went when they played Kent State. It was a great time. I remember Gerry McNamara shot a floater and the place went wild. I was thinking to myself, what's going to happen when I do a crazy dunk! The whole place was really hyped and it wasn't even that big of a game. I can't wait to get there.

Q: And to finish things up, what's the Paul Harris work-out secrets?

A: I don't know, I just do push-ups . I never really hit the weights like that until I got out here to Notre Dame. We lift at the Y up the street.

And I just wanted to say that I'm wearing #25 this year for my friend Miguel Respress who died this past summer. I always wore #11 but that was his number and I'm doing that to honor him. And my headband that says "R.I.P Loaf" is to remember my cousin.