STREETBALL


InsideHoops.com has been covering streetball news, rumors, events, tournaments and star players since we went online in the late 1990's. We've seen it all. Almost anything you've heard about go down at Rucker or elsewhere, we were there. Bookmark this page and hit it regularly for streetball news and rumors, developments in the streetball world, and the most famous streetballers around.

Talk streetball on the InsideHoops streetball forum.

2018 STREETBALL NEWS

The 2018 Dyckman park NYC street basketball season begins Monday, June 11.

The 2018 EBC at Rucker Park streetball season begins Monday, June 18. Note that the EBC is undergoing some change after the unfortunate passing away of founder Greg Marius. We'll report on that.

2017 STREETBALL NEWS

July 26 Photo: Dyckman park, NYC




July 22 Photo: Nice dunk at Hoops in the Suns, NYC


July 7 Photo: Rucker Park, NYC


July 4 Photo: Dyckman park, NYC




June 27, 2015: Dyckman streetball video introducing fans to the summer of 2015:


June 22, 2015: The EBC at Rucker Park 2015 summer season was originally scheduled to begin June 15, then June 22 but will now finally kick off Monday, June 29. Games usually start at 6pm, though sometimes there is a girls or kids game starting earlier.

The Dyckman Park NYC streetball 2015 summer season will begin Monday, June 8.

STREETBALL VIDEOS





Beautiful new EBC Rucker Park court


June 17, 2013

The EBC Rucker Park streetball season starts today, and the EBC has unleashed new hardwood floors that is the most beautiful basketball court we at InsideHoops.com have ever seen. Look at this: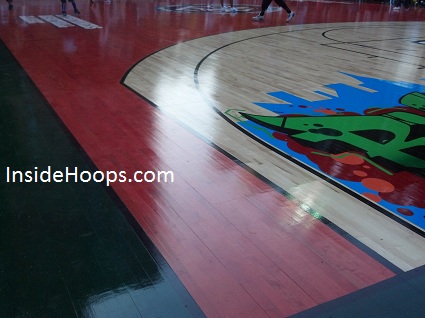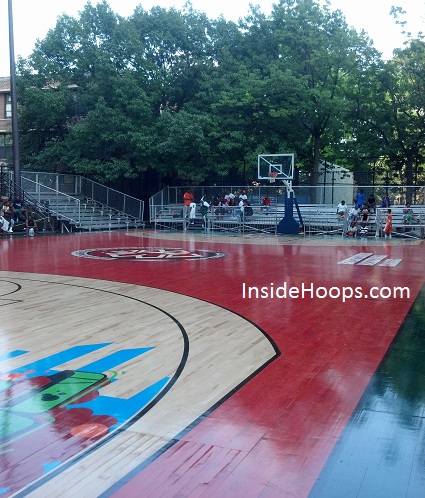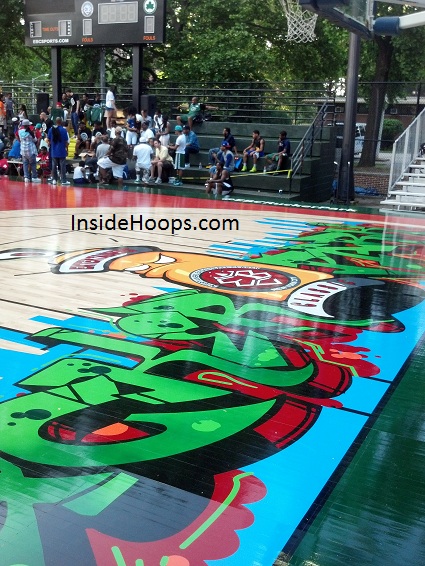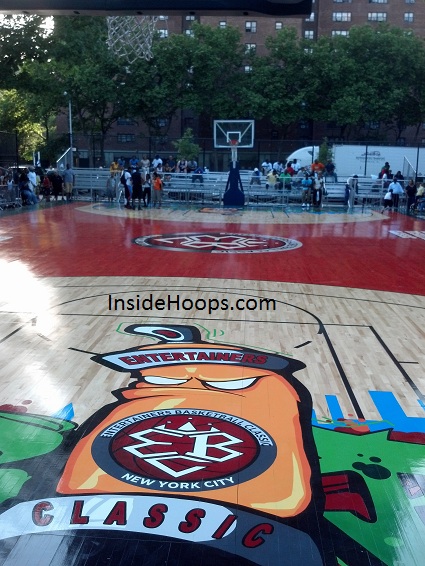 InsideHoops.com is your spot for summer streetball coverage. We'll be updating this page every few days all summer.

-----



Dyckman streetball: Dyckman park streetball kicks off


June 12, 2013

The summer Dyckman park streetball season in NYC began today, and in attendance were J.R. Smith, Lance Stephenson, Sundiata Gaines, and according to random fans, musical artist Juelz Santana was there as well. Nice way to start the summer.

-----



BallUp streetball in China


June 3, 2013

BallUp was recently in China on a 2 game swing. They played a division 1 pro team 2 games in a row out there. The first game ended in tie(yes, a tie). To the amazement of BallUp and the people that attended the game there was no overtime game played. There was some speculation among some people that they didn't finish the game because they had anticipated a blowout. Being that D1 China players are used to competing at the NBA level, when BallUp went bucket for bucket with them, that might have been to their surprise and left the possibility of making their franchise look bad. This is just speculation, however players and corporate of BallUp were of great surprise when they wouldn't play the game out. The language barrier always makes it tough to receive full clarity on whats going on exactly. The second game BallUp lost at the buzzer by 3 points. -- via The Professor Streetball site

-----



NC Pro-Am names declares themselves hot


July 20, 2012

Here's what the PC Pro-Am says about itself: It's the Rucker of the South: You can sit at home and watch the NBA Summer League games all day and you might catch one or two highlights worthy of recording to your DVR box... This summer, NC Pro-Am has been jamming to the sounds of K97.5's Wade Banner and Brian Dawson, as well as DJ Bobby Drake and it's resident DJ Coke. The music stays on during the games and people actually DANCE in the stands. The players dance too. Now, how fun is that? .. Because nothing is more entertaining than watching four-time NBA All Star and Tarheel legend, Rasheed Wallace run over to the scorer's table and yell at everyone about how there should be a shot clock and how bad the referees suck... Everyone knows, or at least thinks that Las Vegas is a fun city, but I've never met anyone who's ever actually wanted to live there or stay there for the whole summer. There might be a lot of distractions here at NC Pro-Am (music, food, women, adorable children) but it's nothing compared to whatever might be happening in the gambling capitol of the world at the same time as an NBA Summer League game.



X-Men beat Bingo's All-Stars to win 2011 EBC Rucker Park championship


August 11, 2011

Joseph Staszewski of the New York Post reports: When the streetball season started Eian Davis was one of the last players added to the X-Men roster. The Brooklyn-based team already had a core group that had been playing together for nearly a decade. Coach Peter Wehye didn't even play him in his first ever game in the unlimited league at EBC Rucker Park. On Wednesday night he barely came out. "He's coming of age," Wehye said. Davis, just 19 years old, grew up at the right time. The former Brooklyn Collegiate standout scored 18 points against some of the best guards on the New York City streetball circuit, including reigning Nike Player of the Year Antawn Dobie and Keydren (Kee Kee) Clark. Davis made big plays at key moments, including late in overtime, to help seal the X-Men's 93-88 win over Bingo's All-Stars for their first ever title at Rucker Park.

More from the NY Post: While Davis was the game's X-factor, Greg Plummer, nicknamed The Purest for his sweet shooting stroke, has been the team's consummate star. He poured in a game-high 30 points. The former Transit Tech standout connected on a bevy of long jumpers and tough drives to stem the tide with Bingo making runs behind Mike Glover, Clark and Dobie in the second and third quarters. He had a huge 3-pointer with less than two minutes to play in the third quarter and scored at the buzzer off a pass from Tommie (Gunz) Eddie to give X-Men a 64-63 lead... Mike Glover, who was late for the start, led Bingo's All-Stars with 22 points. Anthony Glover had 19 points, Clark had 18 and Dobie 13. Bingo had a chance to win the game in regulation, but Clark missed the first of two free throws and Jones had a long 3-pointer hit the front of the rim at the buzzer.



-----



BALL UP STREETBALL


May 1, 2011

A bunch of the former AND 1 streetball stars are back yet again, this time in the form of BALL UP STREETBALL, with a weekly TV show broadcast Sundays on Fox Sports Net. Here's the BALL UP STREETBALL roster from the first game of their season:

Bone Collector: Crazy handles. InsideHoops.com's favorite streetballer from Bone's EBC Rucker Park days.
Special FX: Strong player with insane hops
AO: Great ball-handler who can pass and penetrate
Violator: Garbage-man who hits the boards hard, sets screens and defends
Pat the Roc: Versatile player with a ton of tricks
Mr. Afrika: Super athlete
Sik Wit It: Crafty veteran who can put smiles on fan faces
Springs: Insane leaper who can dunk from Mars
Air up There: One of the best dunkers around
Professor: A walking ball-handling clinic
Escalade: RIP

BALLUP STREETBALL GAME RULES: There are four 12-minute quarters. The shot clock is 30 seconds. The clock keeps running except during fouls and timeouts. And man-to-man defense is required -- zone defense is not allowed.

-----



Justin Bieber plans street basketball movie with Mark Wahlberg


April 27, 2011

Mike Fleming of Deadline.com reports: Paramount Pictures is in negotiations for what could be the dramatic screen-starring debut of Justin Bieber. He will star alongside Mark Wahlberg in an untitled drama that will revolve around street basketball and will give Bieber the chance to show off his hoops skills. Deal comes after Bieber's musical performance film Never Say Never minted money for Paramount. Wahlberg and Stephen Levinson will produce with Bieber's manager, Scooter Braun. The script will be written by Ian Edelman, creator of How To Make It In America, the HBO series that is exec produced by Wahlberg and Levinson, who hold the same titles on Entourage and Boardwalk Empire.

-----



Troy "Escalade" Jackson passes away


February 20, 2011

Troy "Escalade" Jackson, the brother of former NBA point guard Mark Jackson and a beloved member of the streetball and general basketball community, died this weekend.

Mere days earlier here in Los Angeles myself and many others were happy to catch up with Escalade at parties during NBA All-Star weekend. With close friend and fellow streetballer "The Professor" by his side, Escalade, given that nickname due to his large size, seemed his usual happy self. I only hung out with him briefly as we caught up with each other after not being face-to-face for many months. It's shocking to be with someone one night and have them be gone the next.

More on Escalade passing away is here.

-----

STREETBALL GAME IN BEVERLY HILLS Mar. 30, 2008

There's a 'streetball legends' game taking place tomorrow (Monday) in Beverly Hills, California, featuring Hot Sauce, AO, Mr. 720, J-Boogie and others. Bounce says the game has been moved from Beverly Hills High School to the Oakwood Pavillon. That would have been cool for true streetball fans, to catch a few famous streetball stars in a high school gym. Anyway, if you're there, check it out.


COREY 'HOMICIDE' WILLIAMS LEAVES AUSTRALIA FOR CROATIA Mar. 1, 2008

Bounce Magazine reports: In an overnight deal, Corey "Homicide" Williams has signed with Croatian powerhouse Cibona Zagreb. Currently traveling from Melbourne to Hong Kong to Paris then Zagreb, Corey will be ready for action this week. After finishing Australia's NBL Townsville Crocodiles season with MVP numbers (21 ppg, 4.6 ast), he's poised to do the same in Europe's basketball capital.


BALL 4 REAL STREETBALL TOUR FELL APART Feb. 1, 2008

Last year, as InsideHoops.com was first to report in the most famous streetball interview (with Spyda) of the last few years, a big chunk of AND 1 streetballers left the company to form a new tour, called Ball For Real (written 'Ball 4 Real'). Basically, according to multiple InsideHoops.com sources the AND 1 mix tape tour wasn't making any money playing in large basketball arenas around the country, which is why the the 2007 mixtape tour was just played in small outdoor venues on makeshift courts. Meanwhile, the Ball 4 Real tour, which was co-owned by the streetball players and organizer Lisa Fusco (a former employee of AND 1), was basically going to be virtually identical to the previous usual big-arena ANd 1 tour. Ball 4 Real set up dozens of cities, with open runs before the game (though I assume they called it something different, to avoid a possible lawsuit), playing in NBA-sized arenas.

Also, several Ball4Real players told InsideHoops.com that the tour was negotiating with several big cable television networks, so they could have a tour show, just like AND 1's streetball show on ESPN2. But that never happened. We don't know if a deal was ever signed. All we know is, we never saw Ball For Real on television.

Anyway, early word on the start of the Ball 4 Real streetball tour was that attendance was low. We don't know what attendance was like in the middle or end of the tour. Or if they even hit all the cities. They probably did, but we can't confirm that.

InsideHoops.com tried to talk to Lisa Fusco, the organizer, both before, during and after the tour. Right after, and months after. She never returned a single one of our emails. And we weren't asking any complicated questions. We just wanted to say hello and have a simple, standard "get to know you" conversation. Simple, two-line emails. No big deal. Basically, everyone on Earth who tries to do something tour-related in basketball gets in touch with InsideHoops.com. Everyone. This was the one time it was us reaching out, instead of the reverse. She was running a street basketball tour. InsideHoops is a world famous basketball website with a well-known streetball section. Yet she wouldn't talk to us. That's a great public relations strategy, isn't it? Gee, I can't believe attendance was low!

Anyway, so BallForReal apparently no longer exists.

The AND 1 mix tape tour, as far as we know, does plan on having their usual streetball summer. Though I haven't heard any official confirmation of that. It's just an assumption. If we hear one way or the other we'll report it.

Now, Main Event has his own company called Ball For Life (or "Ball 4 Life") and word is he plans on spinning off the spin-off. We don't know what the Ball 4 Life plan is yet, but it's assumed there will be a Ball 4 Life tour, and maybe a Ball 4 Life clothing line. InsideHoops.com will keep you updated.


OFFICIAL AUSTRALIA LEAGUE SITE INTERVIEWS HOMICIDE
Jan. 11, 2008

Corey 'Homicide' Williams, one of the best streetball players on the planet, is currently in Australia, playing in the NBL. Homicide recently interviewed with the league's official site. Corey Williams to NBL.com.au on how he got his nickname: "It's a playground nickname that I've earned since 2000. My reputation as far as street ball started in New York City, the Mecca of basketball period. I earned it in the streets. Growing up I had to earn my respect, as a kid, I was not good at basketball, I started late. Kids nowadays start at three, four, five years old. I started at 13, really late and I knew I could play but I didn't really have anybody who believed in me, I only believed in myself. When I finished college, I didn't have an agent, I didn't have a job to play professionally anywhere. The only thing I knew I could possibly do and do well was prove myself in the playground of New York to get respect. So I wrote a list of every top player in New York City and I had to destroy them. I didn't have to outplay them, I had to DESTROY them. So at the end of the day they said 'whoever was guarding this guy got killed...got murdered.' We don't say 'you got outplayed' we say 'you got killed' so that's how "homicide" got started."

Corey Williams to NBL.com.au on if he had to adjust his style of play to succeed in the NBL: "No, my main thing was that I didn't want people to get caught up in this whole 'homicide' thing. I don't want people to think that just because my name is Homicide that means it's going to be a streetball show every night, that's not what I'm about. When I'm playing, I'm Corey Williams. I have to create for my teammates and make plays and that's what I do. All the hype is cool but hype is not real, it's all about winning games. Obviously I have to play well and help my team win games to put us in a position to win otherwise 'Homicide' would be on a plane. I have a lot to prove here and I want this to be home for me."


HOT SAUCE IS NO LONGER WITH AND 1
InsideHoops.com, Dec. 19, 2007

InsideHoops.com editor Jeff Lenchiner exclusive report: Phillip "Hot Sauce" Champion is no longer a part of the AND 1 Mixtape family, InsideHoops.com has learned. An AND 1 contact of InsideHoops.com's says: "We do appreciate everything he has done for the tour and the brand, We just think it's time to go in another direction."


WOLVERINE WINS AND 1 MIX TAPE TOUR CONTRACT
InsideHoops.com, August 27, 2007

The AND 1 Mix Tape Tour, the original street basketball entertainment tour, finished its 10-city summer run in Los Angeles this Saturday. At the end of the game, Robert Brown, aka Wolverine, was selected as the best opposing player the AND 1 team has played this summer. For his efforts, Brown received a $25,000 check and a contract to join the AND 1 Mix Tape Tour team. Brown joins the Professor as the only players on the AND 1 roster who have won their AND 1 spots by winning a contest. Brown attended Oak Park High School in Detroit and played his college ball at the University of Buffalo. He has played professionally in France, Argentina, Israel and Australia.




ESCALADE STREETBALL REPORTS ALL SUMMER
By InsideHoops.com, July 1, 2007

Troy Jackson, aka Escalade, is filling a streetball diary on InsideHoops.com all summer as he and the rest of the AND 1 mixtape tour team hit local playgrounds, bringing it back to the streets. Read it regularly.

STREETBALL COVERAGE BEGINS JUNE 23
By InsideHoops.com, June 18, 2007

The AND 1 mixtape tour started and InsideHoops.com was there. We'll post full details, game info, interviews and more. The InsideHoops.com streetball section re-launches for the summer on June 23.

We'll also report from opening night at the EBC at Rucker Park.

INTRO TO 2007 SUMMER STREETBALL
By InsideHoops.com, June 16, 2007

InsideHoops.com on June 23 launches our updated streetball section for the summer. But today we'll explain the changes that have taken place this summer. Regarding the AND 1 mix tape tour, yes, it still exists, and it's still hot. But there are two major changes. First, about 10 or 11 players left AND 1 and joined a new company, Streetball Entertainment, run by a former AND 1 mix tape employee. That new tour is called Ball 4 Real. More on that in a minute. But, AND 1 did add some new players.

InsideHoops.com reports the current full AND 1 streetball roster is: Hot Sauce, Professor, Springs, Baby Shack, Silk, Go Get It, Helicopter, The Assassin, Escalade and Bad Santa. And coach Mike Ellis (Big Mike) is still on board. Great set of players. As for the AND 1 mixtape tour, they're only hitting 10 cities, and instead of playing in major arenas, they're taking it back outdoors and playing in a court that they're taking with them as they travel. AND 1 is hitting New York City, Boston, Atlanta, Philadelphia, Washington DC, Detroit, Chicago, Dallas, San Francisco and Los Angeles. The tour starts June 16 in NYC and ends August 25 in L.A. There's no more "Open Run." The AND 1 mixtape team plays various hand-picked players from each local streetball scene of the cities they're visiting. In NYC, or example, John "The Franchise" Strickland and The Maniac, known in NYC streetball, were on the NY team.

As for the new tour, Ball 4 Real, run by new company Streetball Entertainment, they're basically doing exactly what AND 1 used to do, using many of the same players. Ball 4 Real is hitting around 30 cities, playing in major arenas. InsideHoops.com reports that the full streetball player roster for Ball 4 Real is: AO, Half Man Half Amazing, Main Event, Spyda, Circus, Mr. 720 (formerly Air Up There), 50, I'll Be Right Back, High Octane, Killa Kirb, Pharmacist, MC (formerly Shane the Dribbling Machine) and Special FX. Their coach is Steve Burtt. Every single one of those guys was with AND 1, though we think Kirb is new -- not sure, though. And they're doing "Open Runs" like AND 1 used to, though I assume they're calling it by a different name to avoid legal issues.

As for NYC streetball, you know InsideHoops.com is on top of it. And the deal is, EBC at Rucker Park is still the most famous, high profile tournament, but they're facing competition. Kingdome, we're told, is stepping their game up and bringing bigger and bigger names in. And word is a bunch of former known EBC teams aren't returning. Also, an InsideHoops.com exclusive: Fat Joe and Terror Square are gone from the EBC. In an exclusive interview between InsideHoops.com editor Jeff Lenchiner and Fat Joe on Wednesday, June 20, Fat Joe revealed that he was going to take the summer off from streetball, but his friend Mousey, a legendary coach from Rucker Park, is starting a new tournament in Harlem, and asked Fat Joe to be involved. Joe said yes. InsideHoops.com will report on that over the next few days.

Stay tuned. We're relaunching our streetball section on Saturday or Sunday.

Talk streetball on the InsideHoops streetball message board.

TRY OUT FOR EBC DREAM TEAM
By InsideHoops.com, May 5, 2007

The fans spoke, and the EBC heard them. After numerous requests from ballplayers the world over, InsideHoops.com announces that the EBC, the famous league at Rucker Park, have decided to bring true fan representation to the court itself. The Entertainer's Basketball Classic are proud to announce the EBC Dream Team. The team is to be composed entirely of fans of the playing in the league for the first time. Beware, they are not the most famous competitive summer league for nothing; only the most talented will be chosen. Tryouts will be held Monday May 21, 2007 from 6 to 9 pm, at the Kennedy Center, 34 West 135th Street, between Lenox and 5th Avenues, New York, NY. For directions, please call (212) 862-6401. For more information, please call (212) 862-2323. Come out, bring your game and become a part of the legend.


MAJOR INSIDEHOOPS.COM STREETBALL EXCLUSIVE: MASS DEFECTION FROM AND 1 MIXTAPE TOUR RESULTS IN NEW COMPANY "STREETBALL ENTERTAINMENT," WITH PLANS FOR 30 CITY SUMMER STREET BASKETBALL TOUR
By InsideHoops.com, March 28, 2007



A few days ago InsideHoops.com editor Jeff Lenchiner had an exclusive interview with Dennis Chism, more famously known as Spyda, formerly of the AND 1 mixtape tour.

In this InsideHoops.com exclusive, the biggest news ever to hit modern day streetball is revealed: The vast majority of AND 1 streetballers have parted ways with the company and helped start a new tour, called Streetball Entertainment. It sounds like it'll be very similar to the mixtape tour, only Spyda sounds confident it'll be better. Read every word. Enjoy the interview.

Note to streetball websites: Feel free to quote a few paragraphs of this (not the whole thing, of course!), with of course credit to InsideHoops.com and a link so your readers can read the rest of the interview (that's how it always works, but sometimes streetball sites need a bit of a reminder).

Forward www.insidehoops.com/streetball.shtml to all your friends who like streetball so they know what's up.

Also, stayed tuned for a fully updated InsideHoops.com street basketball section to debut around April 1.

And, any day now InsideHoops.com will have more info about all this, so check back. And anyone reading this, you should read InsideHoops.com every day for our ridiculously great coverage of the NBA. And now on to Spyda:

InsideHoops.com: What have you been up to since the end of the last AND 1 streetball tour?

Spyda: After Japan I came home. Went straight down to Orlando, working out with a guy named Tom Shaw. He's a strength and endurance coach with the New England Patriots. So I'm out here in Orlando from January to May at Wide World of Sports, which is located at Disneyworld. Other than that, I'm always looking to get better, and better and better.

InsideHoops.com: And how old are you now, mid 20's right?

Spyda: 26.

InsideHoops.com: What's the status with you and AND 1? You were with them for the tours you just mentioned. Are you still with them, or finished or what?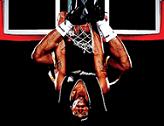 Spyda: We have a new tour. A new company called Streetball Entertainment. A bunch of guys branched off into Streetball Entertainment and some guys stayed with AND 1. I branched off into Streetball Entertainment, to try new things and explore more. I want to thank AND 1 for everything they've done for me. But I think it was just time for a change for me. I just wanted to do something different. Been doing the same old thing for like five years straight. And it was a different look coming to a different company. Bigger and better things.

InsideHoops.com: How many of the AND 1 streetballers went over to the new company Streetball Entertainment? And how many stayed with AND 1?

Spyda: I think five or six stayed, but we have 12.

InsideHoops.com: Wow, so it's basically a mass defection.

Spyda: Right now we're getting everything out right now. We have a choice, between MTV, BET or Spike TV. We're working on that right now. It's really going good. It's really on us, all the players, as far as what channel we want to be on. Like I've been telling people, we've been doing ESPN Classic. We've been on every night, reruns. We're just trying to take it to another level. MTV and BET is another level for streetball. We're turning streetballers into rock stars.

InsideHoops.com: Yeah, and if anyone deserves it it's all you guys. Off the top of your head, or if you have a list with you, do you know which of the 12 players went over to Streetball Entertainment?

Spyda: We have AO, Air Up There, myself, 50, Half Man Half Amazing, I'll be Right Back, Main Event, Shane the Dribbling Machine, the Pharmacist, Circus and Special EFX. And then a couple new faces you might not know. But they will let you know once they hit the court.

InsideHoops.com: Who actually owns Streetball Entertainment? Is it owned by you guys as a group or someone else?

Spyda: It was a team effort. It's a lady. I'm not going to put her name out there.

InsideHoops.com: OK, yeah, I guess she'll put it out there when she's ready to make it public on Inside Hoops dot com or on the company's site.

Spyda: It was a team effort that we came together, while we were in Japan. Japan was the last game. It's just a team effort, man.

InsideHoops.com: What were some of the reasons for you guys to break away from AND 1? Do you think you can make more money than you were, or do things with a tour that AND 1 wasn't doing, or was it just that you had your fun on the AND 1 tour, did your thing, but it was just time to move on and change things up?

Spyda: I think it was the last reason. It was just time to do something new. Everybody don't want to see the same thing go on, go on. We wanted to do something different, and make the competition more better. It seemed like years and years, it was starting to die down. Ratings were up in 2003, 2004 when Professor came on. And then you can see the ratings declined in 2005, 2006.

InsideHoops.com: Yeah, a few years ago the mixtape shows were rerun a lot on ESPN and ESPN2. I used to catch them at all hours of the night. But the reruns were less and less over the last two years. The buzz had peaked and was cooling off. Anyway so as for Streetball Entertainment, how will the new tours you guys put on be different than what everyone saw with the AND 1 mixtape tour?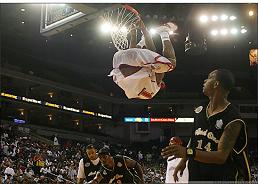 Spyda: The games won't be different, but I think the reality part of the show will be a lot different. It'll be raw footage. Like, whatever you're going to get, that's what you're going to get. It's pretty much the games will be the same. To be honest, the team that we have now, when you come see us play it's going to be run and gun. Everybody on the team is faster and quicker now. That's how I'll be taking my game to another level. Because I know the team that we have, all we're going to try to do is outrun you. That's all we're doing is outrunning people. Faster pace.

InsideHoops.com: Nice. Everyone loves run and gun.

Spyda: And, we have a longer tour this year. We have 30 cities. And I think AND 1 had like 10.

InsideHoops.com: Are you going to play in medium sized gyms, or full arenas like the mixtape tour was using these last few years, or what?

Spyda: The biggest arena they have in the city. Whatever building they want us to shut down.

InsideHoops.com: And will it be you guys playing against each other or is it going to be "open run" style stuff like what the mixtape tour was doing, where guys get to try out that day and get invited into the game.

Spyda: It's the same thing. They walk on, but it's like, we need you to have a resume before you come out there. We're going to keep the kids outside. Maybe a couple of kids inside, but we're trying to get... we'll just call the names. Whoever think it's not real, blazay blazay, just come on. Bring your resume. If you got two rings in high school, two rings in college, I want you to bring all four of the rings to the arena. I need everybody with a resume. My new nickname is Spyda, aka Spyda does what Spyda do, aka The Resume Killer. That's all I'm worried about, resume.

InsideHoops.com: So if I bring my resume, that I have weak game on the court aside from hitting open jumpers, but I run Inside Hoops, I'm not getting into the game, I'm just getting a hot courtside seat.

Spyda: Right.

InsideHoops.com: OK, so people still get a chance to get on the tour and play you guys. So it'll be like open run, though I assume you'll call it something different. So will it be a Streetball Entertainment team against entirely other people, or will the "other team" be a mix of you guys and the people who walk into the game?

Spyda: It'll just be Streetball Entertainment against whoever gets into the gym. The first 10 that get into the gym. But we're working up in 30 cities not knowing who is going to play. Who is going to show. So Vince Carter may show up. We'll never know.

InsideHoops.com: So it'll be pretty similar to the AND 1 mixtape tour, only you guys hope it'll be better, since you'll be the ones really controlling it. Is that part of it, avoiding corporate people and making the decisions yourselves?

Spyda: Right.

InsideHoops.com: So it is going to be a summer tour?

Spyda: Yeah, a summer tour, and then we have a college tour, and [China?] tour.

InsideHoops.com: Your time on the mixtape tour, what were some of the high points for you and what wasn't so great? If you could have changed anything, what would you have changed?

Spyda: Really, nothing. I had a good time with AND 1. I love the staff, I love the people and I love my teammates. I still talk to the teammates that are still with AND 1. So, really, just change nothing. It's just something new. I wish we could start all over, could have been all as one, all 17 guys back together. But it's life, and chances you have to take, and that's what I'm doing now.

InsideHoops.com: Who are the five guys that stayed with AND 1, if you remember.

Spyda: Professor, Helicopter, Baby Shaq, Bad Santa and Silk.

InsideHoops.com: So they still have a few, but you guys got the whole bulk. The guys that stayed have talent and they're great, but you're the majority.

Spyda: Yeah.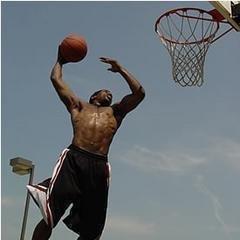 InsideHoops.com: And as for the games, the entertainment factor versus the destroy the competition factor, that's always been a question when it comes to streetball and what you guys were doing. So what's the deal, will the new tour focus have some of the entertainment factor mixed with serious straight-up winning ball? Because obviously as you know, if you try to put on a show and entertain some fans clowning fools, it's different than scoring by any means necessary. Some fans watching streetball want the entertainment stuff, because it's different from what they can watch any night on TV.

Spyda: Certain people on the team put on a show, then we got certain people on the team that just play straight-up ball, all they can do is just score. And then we have a couple of tweeners that can do both with no problem. So pretty much, when you buy a ticket you're going to get the whole package. It isn't half and half this, half and half that. You'll get what you came to see.

InsideHoops.com: The AND 1 games, do you think it was the right ratio? Was it half and half entertainment vs. real ball, or was it way more entertainment? I know what I think, but I want your take.

Spyda: With AND 1 it was a show, really. It was more a show than basketball. Don't get me wrong, it was basketball, but it was more of a show that they wanted us to do. And it's hard, because I'm not a showman. I play basketball, and people love what I do because I'm small and I get up off the ground. I'm very quick and very explosive and very strong. It was kind of hard for some people.

InsideHoops.com: So the Streetball Entertainment tour will be more conventional basketball, but still with huge elements of the showmanship stuff, making fools fall down, clowning and having fun too. The guys who can do it will do it, the guys that don't will stick with what they're best at.

Spyda: Yeah.

InsideHoops.com: What's up with Hot Sauce? I don't think he was on either of the lists you mentioned.

Spyda: He's like the last person who... he hasn't made his decision, so I guess we won't find out til June 1st.

InsideHoops.com: Any other info you want me to put out there for you?

Spyda: My website is coming out in a month. I'm trying to come out with my own shoe. At the end of the tour I'm trying to give away a Spyda mountain bike. You can check me out at SpydaDunks on myspace.com. And you can check out what I do and how I train at CoachTomShaw.com. Let all the fans know out there that Spyda still doing what Spyda does. I'm always going to be Spyda, man. Keep hope alive.

DISCUSS THIS NEWS ON THE INSIDEHOOPS STREETBALL FORUM.





NEW YORK STREETBALL | March 13, 2007



New York city streetball is dominated primarily by the EBC at Rucker Park. Everyone knows Rucker Park, and people often say "The Rucker League" or "play in The Rucker" when talking about Rucker Park, but the league that actually has help Rucker famous for the last 20+ years is the Entertainers Basketball Classic, or EBC.

Rucker Park is in Harlem, which is technically in "North Manhattan." So, it's pretty out of the way, unless you actually do live in Harlem.

In a much more central location for Manhattan is the West 4th street court, in Greenwich Village, right in the heart of downtown Manhattan. But West 4th has no seating, and no room to even stand and watch except on the sidewalk outside the fence. There is an area behind one of the baskets where a few dozen people can stand, but that's about it.

InsideHoops.com will expand our New York streetball coveage this summer, and post more info on the various leagues there later in March of 2007.



SUMMER STREETBALL CHANGES AHEAD? | March 3, 2007



This summer there could be some changes in the streetball world.

Will the AND 1 mixtape tour be as big as it once was? There were a lot of empty seats in arenas last year, and it seems to have peaked in popularity. It's possible the AND 1 streetball tour shouldn't be in NBA arenas and should go back to mid-sized venues, places that hold 3,000 to 8,000 people, depending on the city.

And, should they still have open runs, allowing anyone to walk into the games who plays well that afternoon? Maybe fans would rather just see a bigger AND 1 team, divided onto two squads, putting on a full show.

And how about EBC at Rucker Park? It wasn't on television last year as it was a few summers ago.

InsideHoops.com is your home for coverage of all these leagues. We'll post updates later in March. Check our streetball section on a weekly basis, because we're increasing coverage, starting now.





AND 1 MIXTAPE PR HEAD LEAVES | Nov. 20, 2006



InsideHoops.com reports that Mandy Murphy, who for years has been the main PR person for the AND 1 MIXTAPE TOUR, is leaving the company and will soon move to Boston to work for Reebok. She began with AND 1 as an intern over eight years ago. Murphy said this in an email sent to InsideHoops.com and others: "Now, more than eight years later, I've seen AND 1 rise, and fall." Murphy also said: "You must truly believe in what you're doing to be effective and so I'm not doing myself or this brand any justice anymore by being here. The AND 1 I know and love is now only a memory so, I'd never thought I'd say this, but it's time for me to move on."



Interview with Circus After Winning AND1 Contract | Aug. 27, 2006



Friday night InsideHoops.com was in Madison Square Garden for the final game of the 2006 AND1 streetball mixtape tour. Cirucs, Springs and Special F/X were battling for the celebrated AND1 contract which would place them on the official mixtape team for the next year. The winner was Circus, who had been on the entire tour since walking on from the first Open Run of the summer. The 5-10, 175-pound Brooklyn point guard went to St. Patrick's high school in New Jersey, Witchita State, and has some ABA minor league experience.

Here's what Circus, whose real name is Jerome Holman, said to InsideHoops.com and a few other reporters mere minutes after being announced as the 2006 AND1 endorsement deal winner:

On winning the deal: It felt great, man. It seemed like it was almost set up for me as far as the stage. It was a long, long three months, playing against some of the great guys, getting into feuds, but I'm just... man, to go from L.A. all the way to New York, 25 cities, nine elimination games where I could possibly get back to New York not doing nothing again, it felt great. Family and friends out there. I can't even explain it, man.

On doing it in his home city of New York: Yeah, it's very special. I told myself, coming on, my goal was to get to this point, give fans around the country a chance to vote for me and just leave it in God's hands like that. So, I accomplished my goal and it came out the way I wanted it to turn out.

On why he's popular and what what sets his game apart from other streetballers: Because it's so entertaining, man. I'm usually a lot more entertaining than I was tonight. I was trying to be focused and make sure to keep the game close. That's why I think these guys feel I'm going to fit in, because the entertainment value, I'm always going to be able to sell tickets and help out with the fans and things like that.

On if this is the highlight for him of the whole tour: I had a lot of big, 40-point, 30-point games, but this is definitely the highlight, because the whole presentation and all that, it was overwelming. Like I said, it's just good to do it back at home, in my home city. It was a great feeling.

On the popularity of streetball: Because with the different leagues and the pros, everybody can't make it. So it's a lot of talent still out there on the street. AND1 is the best, man. Just knowing, going through this summer, being around all the AND1 guys, they work hard but at the same time they've got a great job. It's good to get out there, it's a lot of fun and entertainment. Streetball is going higher and higher and I'm glad to be a part of it.

On competition with the two other players: The last whole week... they kind of knew I had a little bit of an edge because I've been on since the first city, but anybody ask me, I'll be like, one day I might say Springs might win, or, we were just banking on each other to win. We hope that everybody gets signed, but just one person was able to get the $25,000 and I'm happy it was me.

On the highlights of his own basketball career so far, to InsideHoops.com: A lot. Before ANd1, I was "one of the guys in New York City." I played in the number one high school in the country, St. Patrick's in Elizabeth, New Jersey. I played with like four McDonalds All-Americans, two pros. I was fortunate enough to play Division 1 at Wichita State a couple of years ago. This fits right up there with that state high school championship. That was for bragging rights and a trophy for the school, this one's for some money, so. This might be number one, or right up there with the high school title.

On the two pros he played with, to InsideHoops.com: Sam Dalembert and my big cousin Al Harrington, who couldn't be here tonight because he just got his deal out in Indiana, so he just started the press conference.

On if Harrington's a real cousin, to InsideHoops.com: Not really, but I'm from Brooklyn and his family for the whole four years took me in and let me stay in Jersey to go to school. Nobody can't tell us that we're not family. Since 9th grade we've been like this, so nobody can't tell us we're not cousins, but it ain't blood.

On the basketball players Circus likes watching the most, to InsideHoops.com: Chris Paul. That's my favorite player, Chris Paul. Besides Al. Got to be a little biased, I'm a Pacer fan again, but that's the guy I watch the most. He happens to be younger than me, but that's my guy, Chris Paul, New Orleans Hornets.

On his personal 2006 AND1 summer MVP, to InsideHoops.com: Got to go with AO. Got to go with AO. He's the general, and when I get there we play the same position, I'm not going to try to step on his toes. I'm going to help him get better. He's definitely going to help me get better. And he's the controller of the team, and he's really the general. I'm going to learn a lot from him next year. The ins and outs, off the court, on the court, on the tour. That's my guy. He's that guy. The general.

Stay tuned, because any day now InsideHoops.com is rebuilding our streetball section. This is about to be the go-to section for all your street basketball news, tournament info and more, just like it was before we took a bit of a break.





AND1 Final Game in NYC | Aug. 25, 2006



The AND1 streetball summer mixtape tour game to an end Friday night in New York City, once again taking place in Madison Square Garden. The arena appeared to be somewhere between 35% and 45% full, at least to InsideHoops.com eyes. Which is pretty good, considering just a few years ago AND1 was playing in parks and tiny gyms that held a few hundred people.

Over the course of the mixtape tour, which consists of a few dozen games in cities across the country, random players who have nothing to do with AND1 take part in the "Open Runs," which take place a few hours before each game. THe best players from each Open Run -- as decided by some of the AND1 players -- get invited to play against the AND1 team in the actual main mixtape game. And a few of the best players from each city get invited to continue on to other cities.

Eventually, at the end of the tour, a few players from Open Runs are left, and the ANd1 players vote on one guy. That player wins money, various prizes, and most importantly, a contract that makes them an official AND1 mixtape tour player. For a year, at least.

Today in the Garden, the three players competing for a contract were Jerome Holman (also known as "Da Circus"), Jamal Nelson (aka "Springs") and Ryan Williams (aka "Special F/X").

Circus is a 5-10, 175-pound point guard from Brooklyn who went to St. Patrick's high school in Elizabeth, New Jersey. He attended Wichita State and has played for the ABA's Long island Sound.

Springs is a 6-2, 165-pound combo guard from Detroit, Michigan who went to Cody high school in Detroit, Michigan. He didn't attend college and has no pro experience.

Special F/X is a 6-5, 225-pound small forward from Queens, New York who attended Cardozo high school in Queens. He went to St. John's university, graduating in 2006.

And after a pretty fun game featuring the usual array of slick dribbling, a zillion dunks (especially alleyoops), tons of turnovers, very few jumpers and almost no real defense, InsideHoops.com reports that the winner of the 2006 AND1 endorsement contract is Circus. Saturday morning InsideHoops.com will post the first interview he did directly after the evening was over.

InsideHoops.com is redoing our streetball section this weekend, and coming over the next few days we'll have interviews with Hot Sauce, Escalade, Professor, Circus (right after winning the contract), Spyder and some other streetballers.

We took a bit of a break from streetball over the last year or two, but now InsideHoops.com is once again the place to be for complete coverage. We realize that over the last few days we've been promising detailed EBC Rucker Park reports and then just delivering bare-bones basic info, but that's beacuse we've been busy actually covering events and gathering up tons of stuff that we'll release over the next few days.

We repeat: INSIDE HOOPS is now the ONE AND ONLY spot on the internet you need for constant, big-time street basketball coverage.

Check back tomorrow and each day over the next week.





EBC America Final Day | Aug. 24, 2006



Wednesday was the final day for 2006 EBC streetball in Rucker Park. Two games were scheduled for today: Los Angeles vs. Seattle at 4PM, and then at 8PM the winner of that game was going against New York for the EBC America championship.

Just so you understand, the regular EBC at Rucker Park season goes on all summer and concluded on Monday (Fat Joe's Terror Squad beat Black Wall Street for the championship). EBC America is a separate, smaller event, featuring some teams from out of the city. This year, Washington DC, Boston, Seattle, Los Angeles and New York competed. I have no idea why there were only five teams. I thought there were going to be about eight.

Los Angeles and Seattle were actually supposed to play on Tuesday, but L.A. apparently didn't know they were playing that day, so the game got pushed to Wednesday. So, with a start time of 4PM scheduled, I strolled into the park around 4:45PM, a full 45 minutes before the game actually started. Seattle was once again armed with Nate Robinson, Jamal Crawford, Brandon Roy and Spencer Hawes. Los Angeles, which in the past featured Gilbert Arenas, JR Smith, Baron Davis, rapper The Game and a bunch of other great names, only had five players, the two most notable being an awesome leaper/scorer named Dupree (no full name was ever mentioned by announcers) and Kenny Brunner, known for being a good player at Georgetown before getting into a heck of a lot of legal trouble.

As the first, second and third quarters progressed, only Nate Robinson and Spencer Hawes actually played for Seattle. Crawford and Roy stayed on the bench, watching and perhaps saving their energy for the championship game. The only problem was, Los Angeles wasn't going down without a fight. Despite only having five players they clawed their way through the game, making a comeback in the second half, pulling the score close in the 4th quarter. Jamal Crawford entered very late in the game, perhaps thinking a mere minute or two of his presense was enough to guarantee victory. The game went overtime. And double overtime. Finally, after several Los ANgeles players committed their sixth fouls, technicals were called on them, and eventually they were forced to forfeit. It was a thriller. Full details on the game coming Thursday evening -- we promise.

As for the EBC America championship game, it was New York against Seattle.

New York featured Kareem Reid, InsideHoops.com main man Speedy Williams, InsideHoops.com main man Rafer "Skip to my Lou" Alston, InsideHoops.com main man Lance Stevenson, Gordie Malone and other usual local NYC streetballers. Seattle featured the same team above, only this time Jamal Crawford and Brandon Roy were set to play.

(Yes, I'm intentionally being obnoxious with the "main man" stuff. It's fun. Deal with it.)

The story of the game was the play of 15-year-old InsideHoops.com main man Lance Stevenson, the finest young player in New York City and pretty much the best player in the country who is just starting 10th grade in high school.

Stevenson repeatedly and convincingly owned Knicks guard Jamal Crawford. Posted up and spun off him for layups. Faced him up and got to the rim, finishing the plays. Hitting jumpers. In fact, on a possession-by-possession basis, Stevenson is the best offensive player the InsideHoops.com crew has seen at the park in a long time.

New York held on to win a very tight game. Brandon Roy barely played in the second half. Robinson and Crawford did all they could. But New York survived, and as far as we're concerned the MVP was the kid who turns 16 in about two weeks.

This weekend InsideHoops.com relaunches our streetball section, with a lot more detail about each game from the last week.



EBC America Day 2



By InsideHoops.com | August 22, 2006

Tuesday, the second day of the EBC America playoffs, was supposed to feature Washington DC against New York followed by Seattle against Los Angeles. Well, DC and NY did play, but during that game it was announced that team Los Angeles thought they weren't playing until tomorrow, and while a few of their players happen to be available, the majority of the team isn't around. So, the Seattle-Los Angeles game will take place at 4PM on Wednesday. And immediately after, around 6PM, the winner of that game will face the winner of Tuesday's Washington DC - New York game.

The Washington DC team featured White Chocolate (who in Rucker Park has a second nickname, the "D.C. Sniper"), a point guard named Scrappy, and some guy named Drew (we didn't hear announcers mention his last name even a single time, so we don't know who he is). The New York team had Kareem Reid, InsideHoops.com main man Speedy Williams (who arrived about halfway through the game), Darren "DP" Phelps (who on Monday won MVP of the regular EBC Rucker Park championship game), Gordie Malone and Anthony Glover. The game was tight almost the entire way through. With under a minute left and New York up three, White Chocolate tried to free himself for a three in the left corner but Speedy Williams was up against him, and Chocolate had picked up his dribble while still in two-point range. After frantically pivoting, WC was forced to pass to a nearby teammate, who missed a tough three. DC kept the ball alive, almost grabbing the offensive rebound, but a New York player tipped it out of the DC player's hands, out of bounds. Although it appeared to the InsideHoops.com crew that the ball should have stayed with DC, the ref called it NY's ball. DC players erupted in anger, and after about 15 seconds of one DC guy jawing at the ref in dramatic fashion, a tech got called, essentially spelling doom for DC. New York pulled off the victory

The park was only about 75% full when the game started. And after lots of fans left during halftime, it was maybe 40% full as the second half progressed. Perhaps the no-game drama on Thursday combined with the excitement from Monday's games left fans a bit tired. By the time the game ended we estimate the seating areas were 33% full. Maybe a bit less.

So, Wednesday night is the final Rucker Park day of the year, as far as the EBC is concerned.







EBC America Day 1



By InsideHoops.com | August 21, 2006

The make-up game for the 2006 EBC Rucker Park streetball championship was Monday night, and Fat Joe's Terror Squad team (Kareem Reid, Ron Artest, Jerome Williams, DP, Anthony Glover, etc. beat Black Wall Street (Junie Sanders, Speedy Williams, Garnett Thompson) in a tight battle. And in the first round of EBC America, Seattle (Nate Robinson, Jamal Crawford, Brandon Roy) beat Boston (Will Blalock). Nate Robinson put on a great show. He did get owned a couple of times, but generally unleashed beautiful streetball moves and wowed the crowd repeatedly. Also, Brandon Roy looks fantastic. Full InsideHoops.com reports coming Wednesday night, wrapping up the entire week, in very detailed fashion. We promise.



Exclusive InsideHoops.com report: EBC Rucker Park Championship Game Didn't Happen

By InsideHoops.com | August 18, 2006

The Entertainers Basketball Classic (EBC) at Rucker Park was set to have their championship game Thursday night between Fat Joe's Terror Squad and Black Wall Street, a team owned by rapper The Game -- who was not in attendance today.

However, the game didn't happen. It's been rescheduled for Monday night.

InsideHoops.com exclusively reports that the two teams were actually there. THe game didn't happen was because there's a female referee named Heather that Fat Joe isn't a fan of. He's had bad experiences with her in the past, and blames her for his team losing last year.

A rumor spread before the game that Fat Joe had "refused" to play if she was the ref. But as the night went on -- with no basketball being played -- Fat Joe claimed it was a fake rumor, planted by either the other team or enemies of Terror Squad, and that while he's not a fan of this ref, he was not actually refusing to play.

The ironic thing is about this particular ref, according to multiple InsideHoops.com sources, is that Heather is actually the most well-trained, experienced referee in the park. She has plenty of professional experience on the minor league level.

When it was all said and done, the game was delayed for hours. Fans stayed in the stands the entire time, waiting for action. The players were on the court the entire time, shooting around or waiting. At several points it appeared a game might actually happen.

About halfway through the three and a half hours of nothingness, the three referees left the park and didn't come back. This shortly after Fat Joe spoke directly to them, explaining his feelings.

An InsideHoops.com source suggested to us a theory that Fat Joe was intentionally trying to cause a delay and get the game postponed for a few days because he wanted Ron Artest and Al Harrington on his team. THe source said those players weren't able to make it today but might be able to play after the weekend.

In Fat Joe's defense, he was there. His team was there. In fact, both teams were there.

Eventually, after about three and a half hours of waiting -- with the only action on the court being a few quick awful games played by random fans pulled from the stands, EBC CEO Greg Marius took the mic and announced that he's rescheduling the game for Monday, because the three "replacement refs" who were ready to ref the game were unqualified, and the game needs to be done right.

The sad thing is, one of the park's best guests ever was in the stands. Kareem Abdul-Jabbar, along with a few non-players that I didn't recognize, arrived promptly around 6PM or so, ready to watch the game. I'm guessing he left about an hour into the standoff, but didn't actually see him leave. I'm sure he was really impressed.

Rapper Ja Rule was also in the park. As was "Buffy the Body," a fit woman in great shape whose main talent appears to be having an hugely oversized ass fat enough to have an basketball game played on it. And that's not an insult.

Things also repeatedly got personal, with one member of Black Wall Street talking loudly to InsideHoops.com about Fat Joe, saying he rode Big Pun's success and got lucky, can't rap and doesn't know basketball. And then later on, another person affiliated with another record label came over to us and said the exact same thing. We wonder what The Game, who owns Black Wall Street, would have to say about that.

InsideHoops.com has plenty of additional info to share. This is just the quick summary. Saturday night we'll unleash interviews we got with Fat Joe, quotes from the other team accusing Joe and Terror Squad of being scared, and much more.

InsideHoops.com is also relaunching our streetball section this weekend. We took some time away from street basketball for a while, but we're about to be back, so stay tuned. This will be the web's most prominent streetball page again, as it's been for years. We won't necessarily do tons of features, but our info will be top-notch and our opinions are more credible than anyone's

Reload this page late Saturday night for a full, detailed report of the entire evening.





EBC RUCKER STREETBALL BEGINS TONIGHT | June 20, 2006

The EBC at Rucker Park season began Monday night. Hit our EBC/Rucker Park section for more info.

STREETBALL TOUR IN JAMAICA | Apr. 29, 2006

Jamaica Observer reports: Legend Sports Management and Consultancy in association with the Jamaica Basketball Association (JaBA) will be putting on the JAMROC Streetballers Basketball weekend tour, set from May 4-7 at the National Indoor Sports Centre (NISC). This was announced at the launch of the tour at the Jamaica Pegasus hotel last week Friday. The tour will have on display a number of top streetballers from the United States, including winner of the last streetball tour in the USA, Spyda; Half Man Amazing; High Octane and Professor. Apart from the main event, game day, on May 6, will also host a high school cheerleading contest plus other activities, which get underway at 2:30 pm.

HEADACHE VS. AND1, IN COURT | Apr. 5, 2006

Jacobs Law Group informs InsideHoops.com that Judge Juan Sanchez of the Eastern District of Pennsylvania has found in favor of their client, Tim Gittens, known as "Headache" to fans of street-ball, in a lawsuit brought against Headache by AND1, the clothing and footwear manufacturer recently purchased by the makers of AVIA brand sportswear.

According to the law group in an email to InsideHoops.com, AND1 had accused Headache of using their trademarks without permission and further, that Headache has breached a contract with AND1. Judge Sanchez found, after a one-day bench trial, that Headache was not liable, and further awarded costs and attorney fees to Headache.

Matthew Cohen, Chairman of Jacob's Law Group's IP Practice, was obviously delighted with the verdict. "We've asserted all along that Mr. Gittens was the one who was wronged, and not AND1," says Cohen. "We've also always asserted that this suit was nothing but retaliation for a previous suit brought by Mr. Gittens against AND1. Judge Sanchez's decision supports our claims."

InsideHoops.com will get in touch with AND1 tomorrow to see if they want to comment.

LENNY COOKE CUT BY MINOR LEAGUE TEAM | Feb. 20, 2006

The Rockford Lightning, a team in the CBA, waived infamous guard/forward Lenny Cooke. No word yet on where Cookie is going. It's possible he signed with an overseas team and actually requested the roster move. We'll find out.

STREETBALL LEGENDS INVADE MARYLAND | Feb. 16, 2006

DiamondBackOnline reports: With names like future, country, wizard, and white chocolate, the roster of the Streetball Legends team that played a squad of students at Ritchie Coliseum last night read like answers to a Mad Libs puzzle. But these nouns are proper, and their basketball games are filthy. White Chocolate, Future and others who honed their games on the playground and made their names on MTV and the AND1 MixTape tour brought their razzle-dazzle to about 250 students last night, defeating a group of intramural all-stars 131-127 in a 48-minute, referee-less hodge-podge of three-pointers, throwdowns and turnovers, turnovers, turnovers. "You saw some things on the court you may never see again," said Chocolate, also known as Randy Gill, who grew up in Silver Spring and played basketball at Bowie State University.

THE PROFESSOR SIGNS WITH MINOR LEAGUE TEAM | Feb. 9, 2006

InsideHoops.com reports that The Professor, from the AND 1 mixtape tour, has signed with a minor league team in the IBL. Full details.

HOT SAUCE RETURNS TO AND 1 | Jan. 24, 2006

A bunch of A+ InsideHoops.com sources say that Hot Sauce has returned to AND 1. We'll see about arranging an interview soon. We're about to redo the entire streetball section and make it HOT, so stay tuned.

STREETBALL ADDED TO NEW ZEALAND EVENT | Jan. 18, 2006

scoop.co.nz reports: "X*Air games to dominate the city this weekend. The capital will be ablaze with energy this weekend when more than 140 of the world's best extreme sports stars come to compete in Vodafone X*Air on Saturday and Sunday. Vodafone X*Air is a free event featuring BMX, skate, inline and Freestyle Moto-X and this year will add streetball, a gritty up-tempo version of basketball, in Civic Square,. Wellington City Council Event Organiser Melody Scales says the waterfront will be transformed into an international sporting arena with more than 120,000 people expected."

WE FOUND 50 | Jan. 5, 2006

InsideHoops.com found out that Robert Wilson, aka 50 is playing in the ABA for the Atlanta Vision. The team plays in the ABA's Barnes-Malone Division and are currently 2-5 in the 2005-06 season.

WHITE CHOCOLATE DOING IT | Jan. 2, 2006

InsideHoops.com reports that Randy Gill, aka White Chocolate is playing in the ABA for the Maryland Nighthawks. White Chocolate is doing his usual big things, putting up 19.3 points, 4.5 rebounds and 4.1 assists per game (as of Jan. 2, 2006). The team plays in the Connie Hawkins Division and they are currently 12-4.

Sik Wit It, SpinMaster in ABA | Jan. 2, 2006

InsideHoops.com reports that Robin Kennedy, aka Sik Wit It and Eric Homes, aka SpinMaster, are playing in the ABA for the Orange County Buzz.

EBC RUCKER PARK AT MADISON SQUARE GARDEN | Aug. 21, 2005

On Sunday, August 21, 2005 at 3PM ET the Entertainers Basketball Classic (EBC) celebrated its 25th anniversary with "celebrity" and all-star basketball games plus mini-concert event at Madison Square Garden. This will be the first charity event that Gregory Marius, CEO of Entertainers Basketball Classic, has organized at the "World's Most Famous Arena". Streetballers Bone Collector, White Chocolate and others competed against a team with JR Smith, Jamaal Tinsley and other stars. In the celebrity game, DJ Clue represented. The event was pretty weak. But it was the first one of its kind, so if it happens in 2006 we're sure it'll be better. OLDER STREETBALL NEWS

July 23, 2005: AO and Main Event reveal what everyone knew, that last year's confrontation between Spyda and Santa (757) was a personal problem between them. They just plain don't like each other.

"I am 5-10, I am not 6 feet," said Sypda, while talking about how he's the only guy around who actually hangs upside down from the rim during dunks.

Spyda had a good line about his vertical leap. It's "to be continued."

And1 in Little Rock, Arkansas: Baby Shack started the game strong, and Spyda answered with a big slam of his own. Steve Burtt during a timeout asked Spyda if he's tired, and kind of laughed. Spyda didn't return the laugh. He's no fan of getting asked that kinda stuff. On the Little Rock team, Problem Child showed nice handles and passing ability as he dished to a teammate for a sweet alleyoop. And during the game, what was possibly the nicest dunk of the summer went down. It was Baby Shack, who rose up and hammer-dunked on someone's head. But then later in the game, 50, all alone, threw the ball off the shot-clock and finished with an alley-oop. That's right, a shot-clock alley-oop. He's done that before. It's always great. And yeah, And1 won this game.

And1 in Memphis: It's an elimination day. One of these three players -- Ballaholic, The Aggressor and Santa/757 -- will be going home. AO, who seems to be a bigger star for the And1 team this year now that Hot Sauce is gone, did work early. Another visiting team member, Mr. T, showed skills. During a timeout, 757 loudly wonderered who the hell is guarding Baby Shack, who for several games in a row has been destroying. The Real Deal (Ashley Shields) and A.I. (Aishaa Hodges), both girls, were on the Memphis team. It's the first time two girls were on a team. And1 won, 110-103.

And now it's elimination. "Ballaholic, clearly out of the three, you're staying," Big Mike told the big three. Santa (757) wound up getting kicked off. But 757 wound up responding with complaints that he had 17 points and more rebounds than the dude who got to stay. After this news, 757 even went the And1 production office pointing out that he had more points and more rebounds than the guy who got to stay. "What's the meaning of the show then," 757 asked. He complained to Duke Tango in the production office, who gave some unrelenting answers that basically said "well, that's how it is" (paraphrase, not a direct quote), which didn't make 757 any happier. He was pissed off. "This is bullshit!" And with that, Sante/757 is gone.

July 21, 2005: InsideHoops.com hears that Tim "Headache" Gittens also plays with Shane the Dribbling Machine on the Court Jesters team.

July 20, 2005: Shane the Dribbling Machine is still technically signed to the And1 company, but isn't on the tour anymore. The ESPN2 show had one episode taking a full segment to show Shane and some other basketball players doing a trick-infused, instructional basketball show for about 150 little kids and their parents in what appeared to be a high school gym in New York City. The team is called the Court Jesters. Shane apparently gets $100 a show or so. It looked like a kid's birthday party or local community center event or something. Shane and the other players were doing some tricks, and there appeared to be a pretty long instructional session where they taught little kids who appear to have never touched a basketball before how to dribble and not drool on the floor. The kids and parents were clapping to some music. Then Shane, the players and the little kids started doing some sort of dance. "I'm scratchin' and survivin'" said Shane. He seems let down in a major way.

July 13, 2005: And1 in Houston: NBA player Mike James played on the visiting team. AO, guarded by James, busted past him. And a few plays later, James dribbled at the top of the key deep in three-point range, back and forth between his legs a few times, and drilled a three. A few plays later, AO bounced the ball off of Mike James' forehead... A few plays later, James stole the ball and dished it for a dunk... During a timeout, And1 coach Steve Burtt took Baby Shack out of the game, and Baby Shack got furious at him for it, cursing a bit... It seems like an ongoing thing between coach Steve and play after player... 50 had a nice dunk in Houston, with two hands... Late in teh game, Go Get it flushed down an alleyoop to put And1 up by two. But the Houston team tied it. The game went overtime... in OT, AO drove, twisted and put in a beautiful reverse... In OT, Mike James, putting on a dribbling show, tried to go between two And1 players, but got tripped, fell, lost the ball and And1 put it in... Team Houston, down by one, had last chance. With six seconds left, Mr. T from the top of the key dished down low to a teammate at the rim who hit a layup at the buzzer. So, Houston won by one point... After the game, coach Burtt yelled in the locker room, telling Baby Shack that his only problem is that he doesn't get back on defense. But Baby Shack yelled back saying that Burtt can't say that he doesn't play defense. They yelled back and forth at each other a bit. Not in each other's face, just from across the room. "We can't go out like that. We're the best. Come on. That should be the last one like that" is a paraphrase of what Coach Burtt said to end the locker room talk... Does AO like playing with the pros? "Yeah... Once they see me playing and some of us at that level, we can compete at that level..." ... "I could play for Phoenix... I could back up Steve Nash," said AO... "I definitely enjoy what I do and wouldn't trade it for the world... all I'm saying is, I could play for the Suns."

And1 in San Antonio: Ballaholic said: "I was supposed to play for the Knicks (in summer league)... and I turned it down, because I was having so much fun with And1, and at the time I didn't think I was ready for the NBA.... which was a big mistake, because I probably could have been in a New York uniform this past season." ... 747 aka Sante said: "At least I'm back here, people gave me the opportunity to be here again, and I'm here and about to lay it down." ... And as for the actual game in San Antonio: Baby Shack rose high for a nice dunk from the side... Professor penetrated, brought the ball up, down and up again for a nice scoop shot... A few hard fouls took place, but nothing happened... AO, mohawk and all, is doing nice things this tour, stepping up in the absense of Hot Sauce, who is gone from And1... Ballaholic tried to work baseline but Spyda stole it, ran and dished for the break... Late in the game, with a close score, AO hit a clutch fast break layup. A play later, Professor started unleashing insane dribble moves, cleared some space and put in an outside jumper... A play or so later, AO, isolated against a defender in the corner, unleashed tricks, and pulled the defender's shirt over his head, waited, drove, and put in a layup... And1 beat San Antonio, 110-88.

July 6, 2005: And1 in Phoenix in June: And1 was leading at the half. Steve Burtt, the And1 team's coach, a middle-aged balded dude who looks like he works out constantly, annoyed The Professor a bit by repeating some instructions a few times too many. And a few plays later, he cursed at his players a bit, half to motivate them but also out of anger... And a few plays later, teh team went to The Professor, who in isolation unleashed some sick dribbling until he was free for an outside jumper, which he hit. And a play or so later he operated a bit closer and scored again... Spyda threw down his patented hang-on-the-rim slam... Amare Stoudemire was in the house. Front row, of course. And1 won, 120-106 over Phoenix... There was some controversey involving Spinmaster. Personal disagreements.

AO has a mohawk now.

And1 in Los Angeles in June: A massive argument broke out in Los Angeles between Syk Wit it and coach Steve Burtt. They were face to face, yelling at each other, and it almost looked like they might scrap. And the aftermath of that was coach Burtt sending Syk Wit it home. And Spinmaster, Syk's friend, who stuck up for Syk, also got sent away as well. It wasn't clear whether they're off the tour or just suspended for a few games. Burtt explained that he has no interest in having to explain himself each time he takes someone out of the game. He seems to be getting into lots of arguments with players very early on in the tour.

And1 in Oklahoma City in June: Baby Shack had a nice dunk off an alleyoop pass. And AO threw an alleyoop to Main Event, who went up for the finish but #13 on teh visiting team bumped Main Event during the jump, causing Main to get in his face. No fight or anything... The visiting team had a few nice plays of their own, with what looked like two players putting in a dunk together in tandom, if that's even possible... At the half it's 63-52, And1 up... And during the half, coach Steve Burtt is criticizing Spyda for looking down and not having positive emotion... Main Event tossed a nice alleyoop to Baby Shack in the second half... A player on the visiting team named Circus abused The Professor pretty nicely in one play. In fact, Circus unleashed a lot of game on just about everybody.. 50 threw down several big jams. Final score: 116-102, And1 beats Oklahoma City... After the game, coach Steve Burtt again got on Spyda, trying to pump him up. But Spyda just looked at him, not saying a word, trying not to get mad and avoiding saying something he didn't want to say.

June 20, 2005: The EBC streetball season at Rucker Park has started. Hit the link at the top left of this page to get the specifics.

Jan. 8, 2005: Exclusive InsideHoops.com streetball news report: InsideHoops.com editor Jeff Lenchiner spoke with streetball legend Hot Sauce and his manager Mark Edwards. While it's known by most streetball fans that Sauce is not on the AND 1 winter tour (called "Streeball Live" - hitting a 12 cities over the next three months), Hot Sauce and his manager informed InsideHoops.com that Sauce is probably finished forever with AND 1. The exclusive InsideHoops.com info is this: Hot Sauce's contract with the company ends at the end of this month. There is almost no chance that Sauce will join the current tour (which began Jan. 7), and almost equally as small a chance that Sauce will be back with AND 1 for the summer tour. Unless something totally turns around, he's gone for good to do his own thing. Hot Sauce loves and respects AND 1, and is not bad-mouthing them. There's no beef. Anything is possible, both now and in the future. Hot Sauce is a star. He wants to branch out, and he wants to be making a living off of basketball for a very long time, not just for a few years. So, with that said, it looks like Hot Sauce will part ways with AND 1, focus on his own Killer Crossover tour, and explore other opportunities. Hot Sauce tells InsideHoops.com to say hello to all the streetball fans out there. And we say to watch for him, because the future of Sauce is going to be even hotter than the past.



STREETBALL FROM SUMMER OF 2004



August 19, 2004: August 12, 2004: Terror Squad beats Ruff Ryders to win the 2004 EBC championship. Kareem Reid won the game's MVP.

August 12, 2004: InsideHoops.com met with rapper Fat Joe, who owns the Terror Squad EBC team at Rucker Park, to talk about basketball and the latest with him. Check it out.

July 16, 2004: At the And1 Open Run in New York City, And1 streetballer Escalade says he and a few other guys went up to RUcker Park to watch the EBC on Wednesday, and Escalade said the basketball there was "garbage." Sounds like someone wanted to get quoted on InsideHoops.com. For those that don't know, Escalade is the giant-sized brother of NBA point guard Mark Jackson and has balled in the EBC tons of times in the past. But he runs with And1 now.

March 15, 2004: "InsideHoops.com editor Jeff Lenchiner exclusively reports that the EBC (Entertainer's Basketball Classic), the basketball league at Rucker Park in New York, will be expanding to eight additional cities this summer. Streetball fans should realize how big a move this is. It's huge. InsideHoops.com reports that the cities who will have their own EBC leagues are Los Angeles, Detroit, Chicago, Atlanta, Houston, Washington, Philadelphia and Boston. At the end of this summer, the top teams in each EBC will play for a championship."

March 9, 2004: Streetballer FLASH (Antoine Howard) has passed away: InsideHoops.com sends best wishes to Flash's friends and family.

March 8, 2004: InsideHoops.com Lenny Cooke review/update:
InsideHoops.com editor Jeff Lenchiner provides a Lenny Cooke summary and update: Going back a full year, Cooke played for the USBL Brooklyn Kings in the 2003 USBL season, which ends late in the summer. After the 2003 summer, Cooke went to the Philippines, joining his team after the season started. He literally carried them from bottom of the standings into playoff contention (they lost in the playoffs when Cooke got hurt and was unable to carry them through the second half). Next, Cooke went to play in China, but didn't stay too long. He recently returned to the Philippines, but about a week or so ago tore his Achilles tendon. To replace Cooke, his team signed former NBA'er Anthony Bonner. In general, Cooke absolutely dominated overseas competition.The latest news is that a source informs InsideHoops.com that Cooke plans on returning to the USBL for the 2004 USBL season, which begins April 16.

February 12, 2004: InsideHoops.com Streetball Movie Report:
A source tells InsideHoops.com that director Malcolm Lee's movie being developed called "The Rucker," about New York's Rucker Park, has temporarily put production on hold because of money issues.

February 7, 2004: InsideHoops.com Exclusive Report:
InsideHoops.com spoke with Ron Artest about summer streetball. Artest had exclusively told InsideHoops.com in November, 2003 that he wanted his own EBC Rucker Park streetball team, which he would call the Queensbridge Gangstas. Well, InsideHoops.com spoke with Artest in February of 2004 and Artest said it doesn't look like he's going to have time to set up his own team. Artest still plans on playing as usual, on someone else's squad.

Oct 19, 2003: In Madison Square Garden, after the Knicks open practice, the EBC (from Rucker Park) took the court and played an exhibition game. InsideHoops.com was there and reports that Bone Collector was the star of the show. He unleashed sick dribbles and moves, and while he took plenty of shots, he also created a lot for teammates. Admittedly, BC hogged the ball a lot, but great streetball moves resulted, so who cares? It's about entertainment, right? Other players in the game were Future, Headache, Special Effects, the Pharmicist, Nyan Boateng and Danny Artest. Headache unleashed some fun stuff. Future tried to take over but was pretty ineffective until later in the game. Right after the final buzzer, legendary EBC Rucker Park announcer Hannibal gave InsideHoops.com a shoutout on his microphone which echoed all around MSG. And then repeated "Inside Hoops dot com" just in case people didn't hear it the first time. As they say at Rucker, "Holla at ya boy!"

Streetball Interviews and Features

Hot Sauce Interview
[Streetball] Hot Sauce may be the most famous steetball player on the planet not named Skip to my Lou. InsideHoops.com presents an exclusive interview. [Sep 23, 2003]

Black Widow Interview
[Streetball] Alimoe, also known as the Black Widow, tore up Rucker Park for a long time before joining the And 1 mixtape tour. InsideHoops.com presents an exclusive interview. [Sep 11, 2003]

Mousey Interview
One of the most well known coaches in the EBC at Rucker Park, Mousey has enjoyed his share of success. Insidehoops.com met with him to discuss streetball. [Sep 7, 2003]

Main Event Interview
In the streetball world, Waliyy Dixon, otherwise known as Main Event, is famous. InsideHoops.com met with him and discussed life in basketball. [Aug 25, 2003]

Harlem Shake
InsideHoops.com presents an exclusive interview with the man known in Harlem for inventing the Harlem Shake, a dance that has spread far beyond the island of Manhattan. [Aug 13, 2003]

Bone Collector Interview
InsideHoops.com presents an exclusive interview with one of the illest street basketball players on the planet. And if you forget how good BC is, he'll be sure to remind you.[ Aug 13, 2003]

Battlegrounds
The New York City regional Battlegrounds finals are done. [Jul 31, 2003]

John Strickland Interview
Strickland has played briefly in the NBA and all around Europe and South America for eight years. He's also a known streetball competitor. InsideHoops.com met him to discuss his career. [Jul 30, 2003]

Charles Jones Interview
You remember CJ. And you've seen him on the streetball scene. On Long Island University he led the entire nation in scoring two years in a row, before playing for two NBA teams and then heading to Europe and the USBL. InsideHoops caught up with him for an exclusive interview. July 1

2002 Streetball Features

Vince Carter Interview about Rucker Park
A quick chat with InsideHoops and Vinsanity.

Venice Beach Photos
A few pictures of the courts in Venice Beach, Los Angeles, California.

EBC Rucker Park 2002 Championship Recap
Entertainer's Basketball Classic streetball finals recap.

Ron Artest Streetball Interview
A quick talk with Artest, otherwise known as "True Warrior."

Kobe Bryant at Rucker Park
Exclusive InsideHoops recap of the EBC Kobe Bryant streetball showing.

The Urban Perspective
A fan explains what it means to represent in the playground.

Streetball Web-wide Articles
Scan the web for new streetball articles.

Stephon Marbury Brooklyn Photos
Marbury hit Coney Island this weekend to film a television commercial. See some photos of him and his ride. Exclusively on InsideHoops.com

Buy cool stuff online

Store 1: INSIDEHOOPS GEAR
Inside Hoops hats, shirts, mugs and more. Easy. Fast. Represent the site. Buy!

INSIDEHOOPS IS UPDATING THIS STREETBALL PAGE, UNCLUDING THE RE-PUBLICATION OF SOME GREAT OLD CONTENT, IN THE COMING DAYS (MID JUNE, 2013)

STREETBALL LINKS
Rucker Park / EBC
Streetballers
Nicknames
Streetball Pictures
Streetball Forum
Mixtape ballers

AUDIO WELCOMES
Skip to my Lou
Hot Sauce
Professor
B-Real/Cypress Hill

RELATED LINKS
Basketball Playing Tips
Hump higher